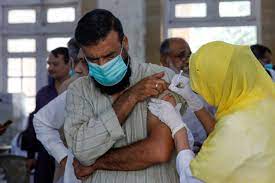 A recent recommendation by National Command and Operation Centre is a good reminder that the threat from the Covid-19 pandemic is far from over. THE NCOC asked people to wear masks at crowded public places and healthcare facilities.
The NCOC stated that the national positivity rate was almost 3%, with some patients in critical condition. While it is encouraging that the authorities are focusing on testing, and following the protocols put in place during previous Covid-19 waves, yet the news is concerning.
It is important that authorities remain vigilant, not only by following the infection's trajectory and community spread in the country, but also by keeping an eye on reports of variants and hospitalizations abroad. There are reports of a new variant in Israel and in India too, cases are rising and so are they in Nepal.
As an editorial in Dawn warned, "As developing countries such as Pakistan, grapple with multiple crises, and budgets for healthcare sectors get strained, health authorities and governments everywhere must know that no compromises can be made when it comes to guarding against Covid-19. In an increasingly interconnected world, the failure of one country can reverse the gains made against coronavirus for all nations."