After several liberal activists including a professor of Fatima Jinnah University mysteriously disappeared, state security agencies once again found themselves facing negative international attention. Critical statements from international human rights NGOs and foreign governments began pouring in. Then came the ultimate trump card. The 'Ace of Spades'. Blasphemy allegations.
The allegations began from right-wing hyper-nationalist websites and social media accounts like so-called 'Pakistan Defence'.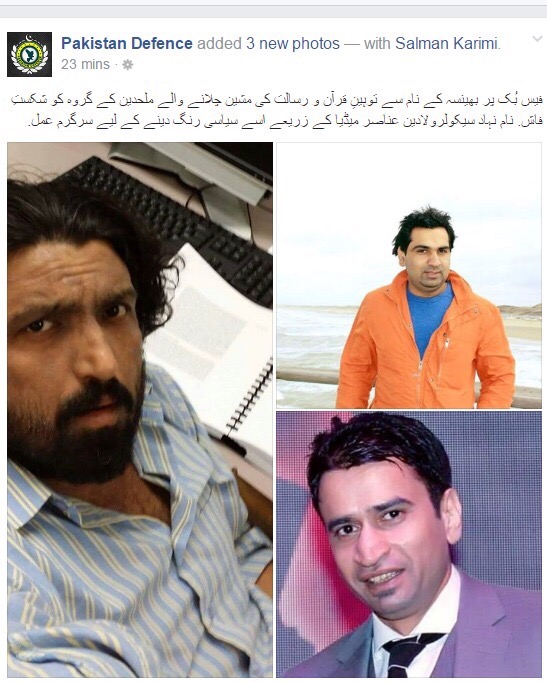 There is no proof that any of these missing are responsible for any blasphemy. There is not even any proof that any of these activists is behind the 'Bhensa' account that is being accused! Actually, they were originally accused of being anti-Army, not anti-Islam. Now that the blasphemy accusation has been made, though, it has also been formalised under the law as application has been submitted to register blasphemy cases against the missing activists.
However, this could be a test case not only for the democracy but for blasphemy law as well. Civil Rights activist Jibran Nasir is calling for arrest of Pakistan Defence admins for inciting violence against the activists. At first it sounds like fantasy, but on second thought there may be something to his thinking. No less than Chairman Pakistan Ulema Council Tahir Ashrafi has called for extreme care in handling of blasphemy cases and has even called for death penalty for those leveling false allegations. I personally do not support death penalty, but Maulana Ashrafi's view shows how serious the issue is. Therefore, everyone can agree that such cases should be decided in court based on all the evidences.
In order for a court to evaluate, both the accused and the accusers should be made to appear before the Court to be questioned. The disappeared activists must be produced and also the admins of Pakistan Defence and other social media accounts that are making such serious allegations should be produced before the Court also. Otherwise, isn't it those leveling such allegations from behind anonymous accounts who are making a mockery of the Court as well as the blasphemy law?
Perhaps there is someone who has committed blasphemy. We cannot know unless the case is heard by an impartial Court. There is also the question whether someone has tried to misuse blasphemy allegations in order to distract attention and cover their tracks. This also cannot be known unless all the actors and evidences are examined by the Court.