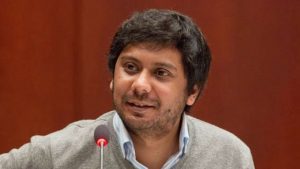 If the state was looking for global attention, it finally found it – but not for the reasons it had hoped. In a shocking mis-step, government officials informed Dawn columnist Cyril Almeida that his name had been placed on the Exit Control List as if he were a wanted criminal.
I am told and have been informed and have been shown evidence that I am on the Exit Control List.

— cyril almeida (@cyalm) October 10, 2016
His crime? Reporting that the civilians had finally shown some backbone and demanded the military do its job and go after militants without fear or favour. Officials denied the story, but as usual they couldn't let it go. The report has now been officially denied not once…not twice…but THREE times, assuring anyone with half a brain that there was something very true about it. If there was still any doubt, the Pindibot Corps has been carrying out social media surgical strikes that confirmed the reports authenticity.
Before you #StandWithCyril, do calculate Govt's reasons for placing him on the ECL including potential sabotage of classified information.

— Pakistan Defence (@defencepk) October 10, 2016
The irony in this case is that if Cyril's report is really so damaging, once again it is the response of government officials and their hyper-patriot lackeys that has turned a minor footnote into a global embarrassment.
Unlike Aabpara's PM's diplomatic envoys who failed to get any attention during their trip to Washington, their attempts to threaten and intimidate a respected journalist got more attention than they wanted.
Cyril Almeida, @cyalm is now trending in #DC https://t.co/LfMQXM7o6Y

— Trendsmap DC (@TrendsDC) October 10, 2016
Where Ambassador Maleeha Lodhi and Senator Mushahid Hussain have failed to get any attention from the international media, the state's assault on Cyril Almeida's rights has earned more coverage than they could have imagined.
Journalist says he's confined to Pakistan after report on civilian-military leadership clash https://t.co/qIcYP0Y7b7

— New York Times World (@nytimesworld) October 11, 2016
Pakistani journalist @cyalm banned from leaving country for a story on government-army rift. https://t.co/voKkkLIXMR

— CPJ Asia (@cpjasia) October 11, 2016
Pakistani journalist Cyril Almeida 'barred from leaving country' https://t.co/qPS3rJBp7X

— BBC News (World) (@BBCWorld) October 11, 2016
At a time when the state claims to be attempting to improve Pakistan's image in the world, what could have possibly been a stupider move than to attack another well respected journalist. Government denied the story, but couldn't let it go. If the past weeks have clearly shown anything, it's that western conspiracies and foreign agents are completely unnecessary to damage Pakistan. The sheer incompetence of our own civil-military leadership is more than enough.