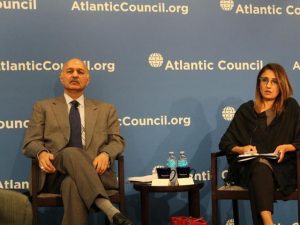 After finding little interest in Pakistan's position on Kashmir, Prime Minister Nawaz Sharif sent a group of special envoys on a diplomatic mission to Washington, DC. The timing seemed to be ideal. India was swirling in a mess of confusion and contradictions. Was Baramulla a terrorist attack or a case of 'friendly fire'? 'Surgical strikes' were being declared and denied, and it was obvious that Indian officials were neither on the same page nor even in agreement on which script they were using. Islamabad, on the other hand, was taking things in stride. Yes, the Defence Minister was making unfortunate statements about nuclear war, but compared to what was being uttered on Indian TV this was hardly a footnote. While Indian talking heads were debating surgical strikes in Pakistani territory, Islamabad was carrying out a diplomatic surgical strike in Washington. It was a strategic stroke of brilliance. At least, that was the plan. What really happened though caught the PM's emissaries completely off guard.
Expecting to find an audience receptive to Pakistan's position, or at least willing to listen, Senator Mushahid Hussain and his entourage found themselves facing an audience uninterested and unwilling to listen. The entire trip can be summed up in a 30 second clip from another diplomatic theatre.
Expecting to find an opportunity for a good soundbite on Kashmir, our journalist was shut down before his question ever even finished. "I don't want to go there…The security council has not been discussing it." The journalist's surprise was clear from his shocked response. How could the UN Security Council not be discussing Kashmir?!?
Meanwhile, in Washington, Pakistan's envoys had arranged a busy schedule, the jewel of which was a public event at the prestigious Atlantic Council think tank which turned from a Pakistan policy press conference to a frustrating and humiliating slap when the microphone was turned over to the audience.
This was not the way things were expected to go. Senator Mushahid did his best, but he once again found himself on the back foot, repeating talking points about national sacrifices and defending instead of advancing Pakistan's narrative.
If Nawaz Sharif was expecting to find sympathetic, or at least receptive ears, it was his envoys themselves who found themselves being lectured. The entire trip appears to have been completely ignored by the international media. Washington's influential journalists seem to have taken no interest in any of the events. Even domestic media has given the results of the trip very little attention, and perhaps there is good reason.
militancy, particularly cross-border attacks, was an issue that the delegation had to confront at almost each of more than a dozen meetings it attended in Washington.
Everywhere that the diplomatic envoys went, they were met with questions and demands about Pakistan's support for militancy. Rather than pointing to any success, Senator Mushahid Hussain was resigned to hoping that Pakistan's chances will be better under the next American government.
Senator Mushahid Hussain hoped that the new US administration would be different from the Obama administration, "which hopefully would have more balanced, strategic, sustained and consistent policy".
At the end of this high profile diplomatic mission, PM's envoys left with Pakistan in no better position than when they arrived. Worse, this outcome seems to have come as a complete surprise. Our own media, largely stage managed to promote narratives rather than news, is largely responsible for this state of affairs. We mismanage our own expectations by constantly telling ourselves what we want to hear instead of what we need to hear. As a result, we are like the friend who never gets the message, who even when his friend says with exasperation, "I'm sorry, but it's so late, shouldn't you be going now", replies with a smile, "it's no problem, I'm not tired at all!" What will it take for us to understand the message that the entire world is trying to give?
Despite our best efforts to elevate Kashmir to the center of the world's attention, the world has clearly shown no interest. Not just the UN and the US, the Gulf states too have been silent and unwilling to take a strong stand in support of Pakistan's position. The only statements that come from the world's power centres show sympathy to India for suffering terrorist attacks and call on Pakistan to stop supporting militants. The question now is whether the powers that be are able to get the message.