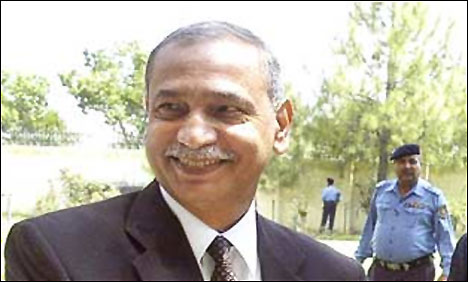 Tariq Khosa's recent article has gotten under the skin of secret agencies. Earlier this week, the former DG-FIA wrote a piece noting that recently published emails from Hillary Clinton revealed that Gen Kayani had used Maleeha Lodhi as a secret messenger between GHQ and the US government, and asked why this has been virtually ignored while the 'memogate' fiasco, which proved to be a drama invented to attack the PPP government. Khosa's point is a simple one: "No one has the courage to ask the military elite some tough questions." As if determined to prove his point, nameless, faceless agency men are now accusing Khosa saab of 'maligning' and 'targeting' agencies.
The question we must ask ourselves is if asking hard questions amounts to 'maligning' institutions. Nobody believes it is 'maligning' political parties to ask hard questions about their links to criminal gangs. Nobody believes it is 'maligning' NGOs to ask hard questions about where they get their funding. So why is asking hard questions only 'maligning' one particular institution? Do we honestly believe that the security establishment should be above the law?
Some will argue that there is a right way and a wrong way to ask questions, especially about sensitive institutions like security agencies. However, the proof is in the pudding, as they say, and reports of the National Command Authority meeting this week once again prove that the pudding bowl is empty. Once again, all the civilian and military leaders got together and the only thing that could be reported was "full confidence" and "congratulations".
Those anonymous agency men whose feelings got hurt by Tariq Khosa's article claimed that criticism "pleases external forces that look at the present inter-institution harmony especially the one-page status of civilian and military leadership in Pakistan with scepticism". If our leadership can do nothing but congratulate itself while the country faces existential threats, what sane person would not have a healthy sceptisism? Did these agency men ever consider whether Tariq Khosa's scepticism "pleases external forces" because they are relieved that somebody in the country with the world's fastest growing nuclear arsenal is willing to give an honest assessment?
Tariq Khosa's words are not maligning or targeting security agencies. They are trying to help them. Pakistan is facing attacks from internal and external enemies. Our ability to respond is severely limited by internal dysfunction. The need of the hour is not leaders who willing to sit around and congratulate each other, it is leaders who are willing to ask the hard questions necessary to get the country back on track.