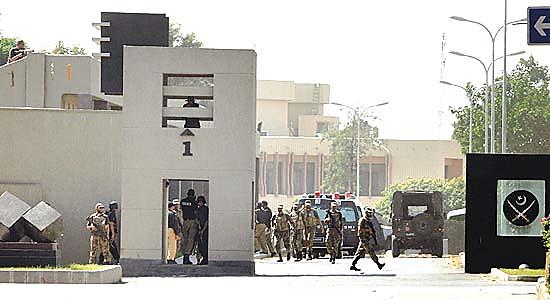 I don't usually agree with Ansar Abbasi, but when someone is right…they're right. The Jang columnist recently wrote about the problems caused by intelligence agencies operating with complete lack of oversight. Little could he know how his thesis would be proven correct over the next few days as story after story added damning evidence against agencies.
After years of denials, ISI is finding itself facing new charges of support the 26/11 terrorist attack. Former CIA director Michael Hayden has now publicly revealed ISI's involvement in his new book. The ex-US intelligence chief says that he was personally told of ISI's involvement by none other than the DG-ISI Shuja Pasha.
"We had no doubt that the attack was the work of LeT, and there was mounting evidence that preparation for and direction of the attack took place from within Pakistan, where LeT enjoyed the protection and support of ISI," Mr. Hayden said.

Pasha, who had come to ISI only a few weeks earlier and had no previous intelligence experience, came to the U.S. on Christmas Day and spent most of the next afternoon in his office.

"He worked carefully from notes. His investigation had revealed that some former ISI members were involved with Lashkar-e-Taiba [no surprise there]. Pasha admitted that these unspecified [and still uncaptured] retirees may have engaged in some broad training of the attackers, but he was characteristically vague about any detailed direction the attackers had gotten during the attack via cell phone from Pakistan," Mr. Hayden wrote in the book.
This admission comes the same day that PM's Foreign Affairs Adviser Sartaj Aziz admitted that one of the mobile numbers linked to Pathankot attackers was traced to Jaish-e-Mohammad headquarters in Bahawalpur. Once again, this admission comes after security officials strongly denied any links between the ISI-supported militants group and the terrorist attack.
These revelations follow a third shocking admission. Yesterday, former DG-FIA Tariq Khosa wrote a damning piece that exposed the entire 'memo-gate' saga as a drama written by GHQ and directed by ISI to neuter the civilian government.
With these three revelations facing us now, we should think about Tariq Khosa's words of warning.
No heads rolled after the OBL raid; no one had the courage to ask the military elite some tough questions.

The establishment has acquired the art of turning its strategic follies to triumphs. It is this deep state that has curtailed and trimmed democracy, ensuring the country stays rigged in favour of a small but self-aggrandising elite. And until that changes, democracy in Pakistan will remain imperiled.
26/11, Pathankot, 'Memogate'. These can all be categorised with other strategic blunders: Osama bin Laden living in the shadows of PMA Kakul. Kargil fiasco. Operation Searchlight. The list goes on and on and on. We have allowed agencies to operate with no oversight because they claim it is a matter of 'national security'. But it is exactly this that has made the nation less secure. Agencies failed policies and strategies have made our neighbors suspect us and have allowed extremism to grow unchecked into the monster that we face today. To paraphrase Tariq Khosa: "Until that changes, Pakistan will remain imperiled."