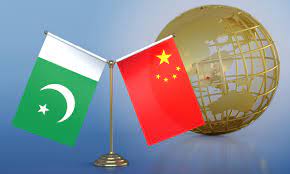 For the last two decades, the first visit of every Pakistani Prime Minister or President or Army chief has been to China, unlike during the Cold War when the first visit used to be to the United States. Caretaker PM Anwaar-ul-haq Kakar's visit to Beijing on October 16-18 was thus predictable.
The premier is accompanied by a high-level delegation including members of the cabinet and senior government officials. PM Kakar is expected to hold bilateral meetings with President Xi Jinping, Premier Li Qiang and Li Xi, member of the Standing Committee of the Politburo of CPC Central Committee.
The government's propaganda machinery is in overdrive to portray the visit by a caretaker Prime Minister to Beijing as helping "reenergise bilateral economic relations, as China has shown interest in signing agreements for deepening cooperation in mineral sector development, green economy and research on major issues for the Belt and Road Initiative (BRI)."
Pakistan's economic crisis continues unabated, and the military establishment is trying to ensure that sympathetic countries like China, and the Gulf Arab states, can be convinced to increase their investments in Pakistan so that by the time the country approaches IMF for its 24th loan it is in a slightly better economic situation.
However, the reality is that at the recent 11th meeting of the CPEC Joint Cooperation Committee Beijing refused to accept many Pakistani demands for further investment. As a new story laid out "The list of the agreement and MoUs suggests that China wants to focus on high-return areas, particularly the ones that are more relevant to the modern era."
Even though President Xi referred to CPEC as the flagship project under BRI, it is increasingly apparent that China is willing to only invest a certain amount of funds and not more. This is evident in the fact that to date Pakistan has only received $25 billion in investment against the initial announcement of $62 billion under CPEC.
Even Iron Brother China will not invest unless it receives return on investment in Pakistan.