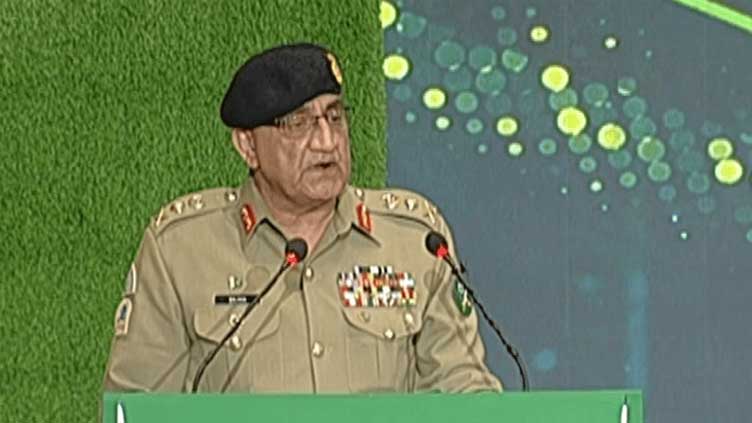 In his last public speech before retiring on November 29, outgoing army chief General Qamar Javed Bajwa chose to speak about the legacy of army's interference in politics and claimed his speech was an attempt at catharsis.
The general dedicated a large portion of his speech to political matters, saying that the reason why the Pakistan army is criticized by its own people is because of the "army's interference in politics for the last 70 years which is unconstitutional." He stated that "in February last year the army, after great deliberation, decided that it would never interfere in any political matter. I assure you we are strictly adamant on this and will remain so."
However, Gen Bajwa rued that "instead of welcoming the military's decision, many sectors used very inappropriate and undignified language while making the army the target of severe criticism." He noted that "the army had initiated its process of catharsis and expected that political parties would follow suit as well and reflect on their behaviour. This is the reality that there have been mistakes from every institution, including political parties and civil society."
General Bajwa called upon all "political stakeholders to set aside ego" and move forward because the country was facing a serious economic challenged and "Political stability is mandatory and the time has come for all political stakeholders to set aside their ego, learn from past mistakes, move forward and take Pakistan out of this crisis."
The army chief said there was a need for political parties that lost to stop calling others "selected" or "imported". "We need to reject this behaviour," he said. "Victory and defeat are part of politics and every party will have to develop the strength to accept its victory as well as defeat so an elected government comes in the next election instead of an imported or selected one."
It was interesting that while the army chief spoke of the need for catharsis he also chose to absolve the Pakistan army – the main institution responsible for the East Pakistan crisis, genocide and war resulting in the creation of Bangladesh – for 1971 and instead chose to blame the civilians. "I want to correct some facts here. Firstly, former East Pakistan was a political failure and not a military one," he said.
The speech on many levels reflected Bajwa's views and what he has tried to do over the last year in an attempt to move the army away from either direct governance or hybrid rule. However, he is retiring and as they say every army chief is his own man. So while Bajwa may want the army to stay out of politics, what Munir believes will now matter.
Also, while the army may be rethinking its role in politics, has the political class also realized that it needs to get its act together – that each political party needs to accept the verdict of elections or vote of no-confidence, that they need to understand that unless all of them believe in the democratic process all of them will suffer, and that all political parties need to stop turning to the army to help them win elections or form a government.