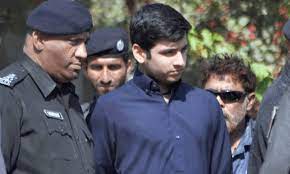 Pakistan is no place for the poor or unprivileged, while the rich and powerful get away scot-free because they know how to game the system. The recent acquittal by the Supreme Court of Shahrukh Jatoi and his co-accused in the 2012 murder of young Shahzeb Khan demonstrates this fact.
Shahzeb Khan was murdered in cold blood in a revenge killing by Jatoi and his accomplices after the young man scuffled with the men who had been harassing his sister. Even though he was nominated in a murder case Jatoi managed to flee the country and had to be brought back to Pakistan on court orders. Soon after an ATC sentenced the accused to death for murder, but the victim's parents pardoned them. The Sindh High Court then ordered a retrial and commuted the death sentence to life imprisonment. However, when the accused took their appeals to the apex court, the apex court acquitted them.
In a similar case, the family of Nazim Jokhio, murdered earlier this year allegedly at the behest of two PPP lawmakers, also filed a compromise petition, though the slain man's mother had earlier complained they were being pressured by the suspects.
As an editorial in Dawn notes, "These loopholes in the legal system need to be plugged lest more rich and powerful convicts walk away free by 'buying justice' in the name of compromise or forgiveness. Murder should be a non-compoundable offence, and as legal experts point out, even if religious injunctions are invoked, the heirs can forgive only if the murder is not premeditated. In the aforementioned cases, there is strong evidence to suggest that both victims were deprived of their lives for wounding a powerful man's pride."