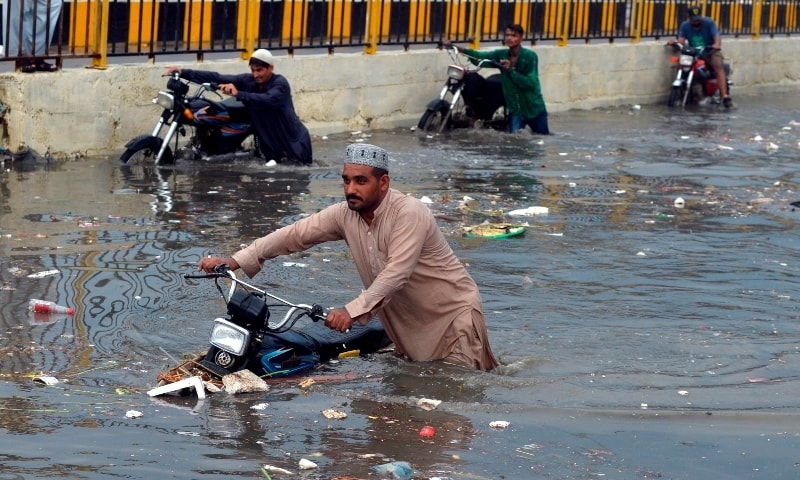 The Pakistani state and establishment have argued for decades that Pakistan faces an existential threat from its neighbor, India, and they have spent millions on dollars on that perceived threat. However, the real existential crisis facing Pakistan– like the rest of South Asia – is the climate crisis.
While everyone is focused on the political drama playing out, floods have played havoc across the country, causing devastation, destroying livelihoods, and sweeping away entire settlements, leaving only death and destruction in their wake. According to the Pakistan Meteorological Department there was 385 % higher rainfall in Sindh and 371 % higher rainfall in Balochistan this year.
This unseasonably high rainfall came on the heels of back-to-back heatwaves in both these provinces. There are concerns that extreme weather patterns may become the 'new normal' for Pakistan.
Yet, despite the massive destruction there is little indication that the government – federal or provincial – is making any effort to study the crises and plan for the future. According to an editorial in Dawn, "The destruction of life and property at the scale seen this year makes for a very expensive lesson for administrators and provincial governments to learn what their development priorities ought to be for the future. Clearly, climate resilience must be the defining feature of any rehabilitation and reconstruction work done from this point on. The infrastructure that has been destroyed and the villages that have been wiped off the face of the earth must be rebuilt, keeping in mind that what has happened this year can and will most likely happen again: if not next year, then the next, or the year after."