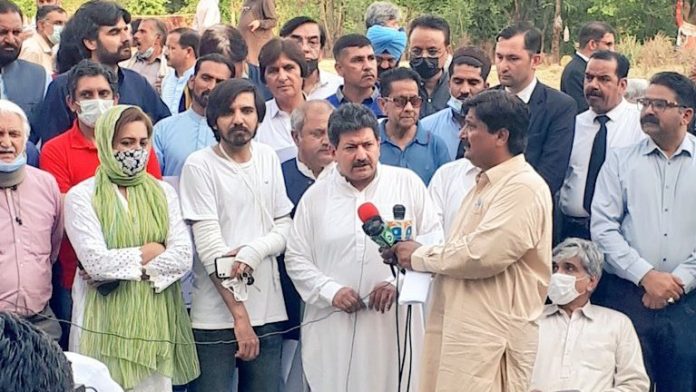 "Journalism is not a crime. Dissent is not a crime." These words were recently stated by the Human Rights Commission of Pakistan. however, for decades, Pakistan has ranked high on the list of countries that unsafe for journalists and human rights.
The case of Hamid Mir, one of Pakistan's highest-rated political talk shows – called "Capital Talk" – on Geo News, reflects the reality of Pakistan. Mir was recently "taken off air" by Geo News after he spoke at a protest rally in support of Asad Ali Toor, another journalist critical of the military, who had been attacked in his home by three unidentified men.
Toor, in a police report stated "that one of his attackers identified himself as belonging to the Inter-Services Intelligence (ISI), the country's main intelligence agency. The Pakistan government termed the accusation "a well-thought-out conspiracy"."
In his speech, Mir "called for accountability and said he would identify those responsible for a series of attacks on journalists in Pakistan. "If you're breaking into our homes to assault us, well, we cannot enter your homes as you have tanks and guns, but we can make things public, things from inside your homes."
This is not the first time in recent years that Mir has faced the ire of the Pakistani deep state. In 2014, Mir survived an attempt on his life, when he was hit by six bullets in Karachi. "Mr Mir's brother, a leading investigative journalist, has accused the country's intelligence agency, the ISI (Inter-Services Intelligence), of orchestrating the attack, reports the BBC's Shahzeb Jillani, in Karachi. According to his brother, Mr Mir had recently told family and colleagues that he had received threats from the ISI because of his political views."
The Geo-Jang group statement on why the veteran journalist had been 'taken off air' stated that Mir "had made a speech "that has resulted in backlash from different segments of society". "The editorial committee and lawyers will check for violation of policy and law. Meanwhile, 'Capital Talk' will be hosted by a temporary host."
International watchdog, Committee to Protect Journalists (CPJ) issued this statement: "Forcing a popular news talk show host like Hamid Mir off the air after voicing criticism of Pakistan's military—and support for a fellow journalist—only underscores the lack of true press freedom in Pakistan," said Steven Butler, CPJ's Asia program coordinator. "Critical comments about key state institutions are an important component of democracy, not a scourge to be eliminated."
According to said Iqbal Khattak, Reporters Without Borders (RSF) representative in Pakistan, "The space is completely shrinking. In fact, I'd say it is finishing. You are not even allowed to express yourself while you are not on duty."
In a statement the Human Rights Commission of Pakistan (HRCP) expressed grave concern "over the growing climate of fear, violence and censorship that currently underpins freedom of expression and opinion in the country. The attack on reporter Asad Ali Toor by unidentified persons allegedly in connection with his work and the decision to take anchor Hamid Mir off the air—following his criticism of the establishment at a civil society protest—represents what has now become an entrenched pattern of unspoken censorship and violent reprisals.
HRCP noted that it is "unacceptable for a profession that can carry enormous personal risk to remain largely devoid of protection mechanisms. Journalists who report from conflict areas, such as in Balochistan and parts of KP, must be provided safety and first-aid training, bulletproof jackets where necessary, and life insurance. Additionally, media owners and management are responsible for helping ensure that the profession is made not only safer and free from harassment and abuse, but also more equitable and reliable as a means of living. Foremost, all media personnel must be paid their salaries on time and all salary cuts reverted. The jurisdiction of the Islamabad-based media tribunal must be expanded to the district level to ensure regular payment of salaries and other dues. The government must also take proactive steps to track down social media accounts involved in harassing or intimidating journalists, especially women in the profession."