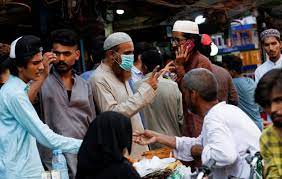 Right from the start, the PTI-led government has been unable to handle the challenges arising from the Covid pandemic. Like all its neighbors, Pakistan has been hit hard by the second wave and yet, the government refused to impose a lockdown or ban large gatherings over Ramzan and Eid.
As an Editorial in Dawn pointed out, "the effects of large gatherings over Eid as well as multiple home visits will be apparent in the days to come and will largely depend on how far people complied with the SOPs."
As the Editorial noted, "Pakistan cannot afford to be complacent. Our healthcare infrastructure and medical manpower do not have the resources to cater to a high volume of critically ill Covid-19 patients." According to latest figures, the country has lost over 200 doctors and at least 30 paramedics already.
The Editorial called upon the government to "ramp up testing, SOP compliance, and vaccine coverage. Mask-wearing, social distancing, and limited gatherings, too, are key to keeping infections low."
13 total views, 1 views today