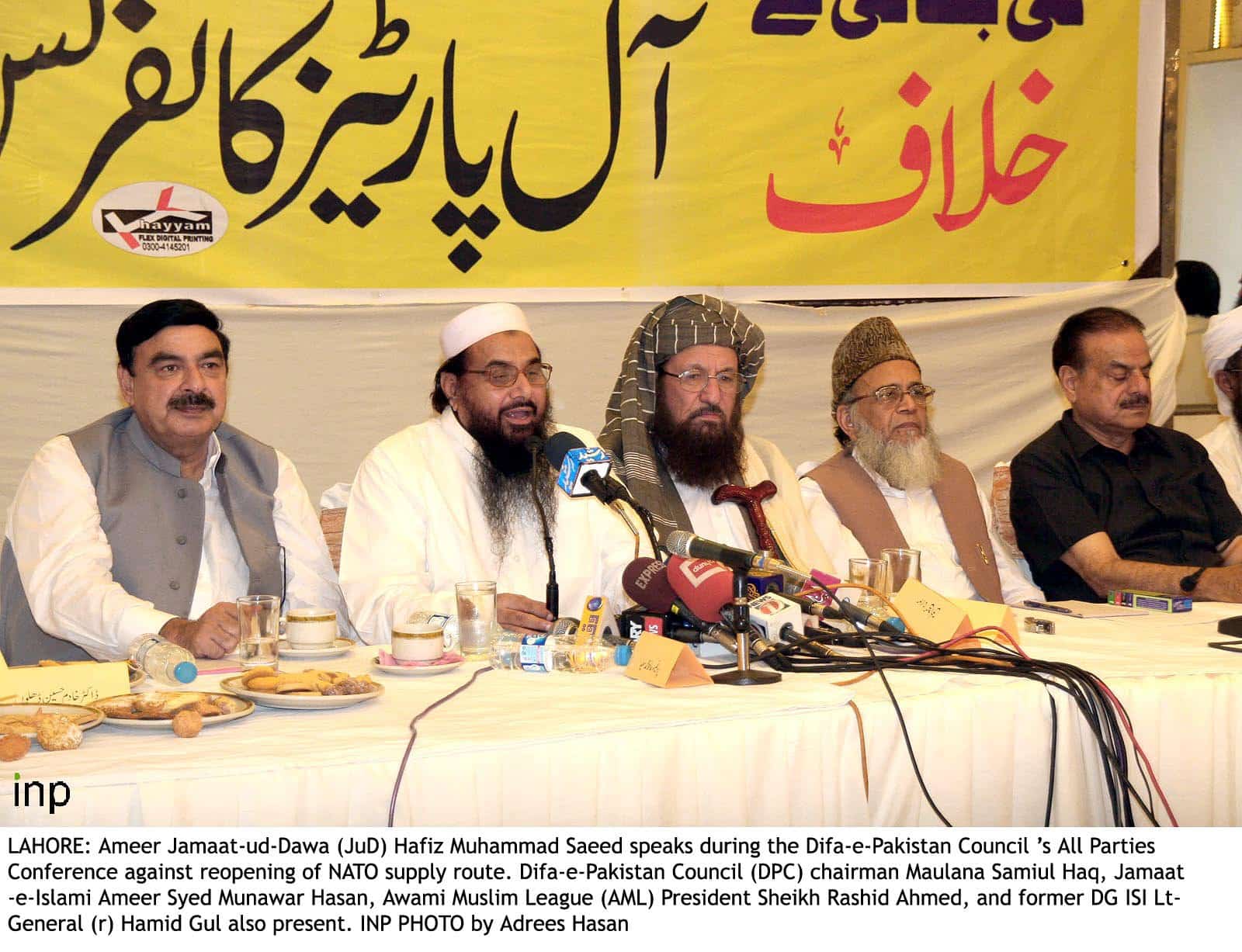 Pakistan has a new Interior Minister. It is a man Prime Minister Imran Khan once said he would not even appoint as a 'chaprasi' (peon). But first Sheikh Rasheed was appointed Minister of Railways (August 2018 -December 2020)by Khan and will now have all law enforcement under him. A great promotion for someone who was not worthy of being a chaprasi!
Sheikh Rasheed is the leader of his one-man party, Awami Muslim League. He has been a member of the National Assembly from Rawalpindi since March 1985 and boasts of being close to the Pakistan army. He is also close Pakistan's Jihadi groups and boasts, also, of having run training camps for Jihadi militants.
He has changed parties like we all change our smartphones, every year: from running as an independent to running on the tickets of Islamic Democratic Alliance (IDA), then Pakistan Muslim League- Nawaz (PML-N), to Pakistan Muslim League – Quaid (PML-Q), to Awami Muslim League (AML).
In 2005, Jammu and Kashmir Liberation Front (JKLF) leader Yasin Malik while on a visit to Pakistan gave a speech where he praised Rasheed who was then Federal Information Minister and said: "Sheikh Rashid has played a great role for Kashmir's liberation. He used to support the frontline jehadis from Kashmir, but few know of his contributions."
Though Rasheed tried to deny this, the Daily Times, published an article titled "Minister trained 3,500 Kashmiri militants, says Malik" which reported that "it was at the Information Minister's farmhouse on the outskirts of the national capital that some 3,500 Kashmiri jehadis, including Malik, received arms training."
Further, journalist Hamid Mir confirmed the story by saying "Yes, according to the information I have, Sheikh Rashid's Rawalpindi farmhouse was dubbed Freedom House and used to be a hub of Kashmiri activists belonging to the JKLF. The camp was operational from 1988-90 to train JKLF cadre and Sheikh Rashid accompanied JKLF leaders, including Yasin, to the LoC several times. The camp's existence was known to high officials in Islamabad."
Over the years, Rasheed has openly attended rallies and meetings organised by the Difa-e-Pakistan Council, a Pakistani deep state backed coalition of 40 religious parties and extremist groups headed by Hafiz Saeed, who heads Jamaat ud Daawa / Lashkar e Taiba.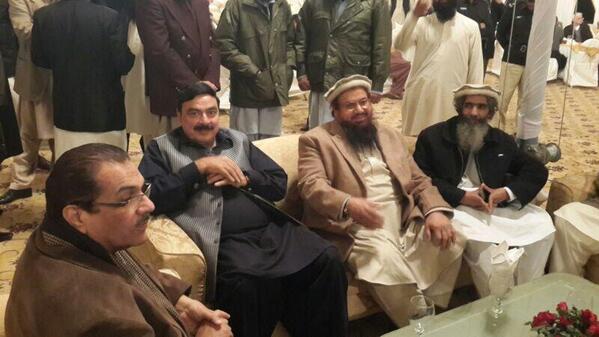 At a 2012 rally of Difa e Pakistan Council attended by Jamaat-e-Islami (JI) Amir Syed Munawwar Hasan, Hafiz Muhammad Saeed and Abdul Rehman Makki of the Jamaat-ud-Daawa, Sheikh Rashid Ahmad of the Awami Muslim League, Lt General (retd) Hamid Gul, Rasheed warned against support to the United States and the NATO-mission in Afghanistan.
A few months later that very year, when Rasheed traveled to Houston, he was briefly detained at the airport. According to The Express Tribune Rasheed was detained by American immigration authorities "for his alleged links with Lashkar-e-Tayiba and freed after five hours of interrogation." However, it could also have been his close association with Hafiz Saeed and Difa e Pakistan.
In August 2020, while participating in a television show, Rasheed claimed that Pakistan's generals had found a way that they could drop a nuclear bomb on India in such a way that it would only kill non-Muslims, not Muslims in India
This was not the first time that Rasheed threatened war on India. In August 2019, when India revoked Article 370 (that granted special status to Indian held Kashmir), Rasheed stated "The time of the last battle for the liberation of Kashmir has arrived and this time the war with India will be full and final."
At a time when Pakistan faces both internal and external challenges, and the country remains on the grey list of the UN-Financial Action Task Force (FATF) because of concerns related to terrorist activities, why would we want someone who has links to terror groups as the Interior Minister?