Pakistan's army chief, General Qamar Bajwa, is on an official visit to the United Kingdom, ostensibly to discuss military matters. He and his entourage found time to watch Pakistan's cricket team play their match against South Africa at Lord's cricket ground on Sunday.
When people wondered how they could afford the tickets the Pakistan army's chief propagandist, the offensively outspoken DG ISPR Maj Gen Asif Ghafoor, tweeted to suggest that not only could he have afforded his own tickets but would also be happy to take any critics to a future cricket match.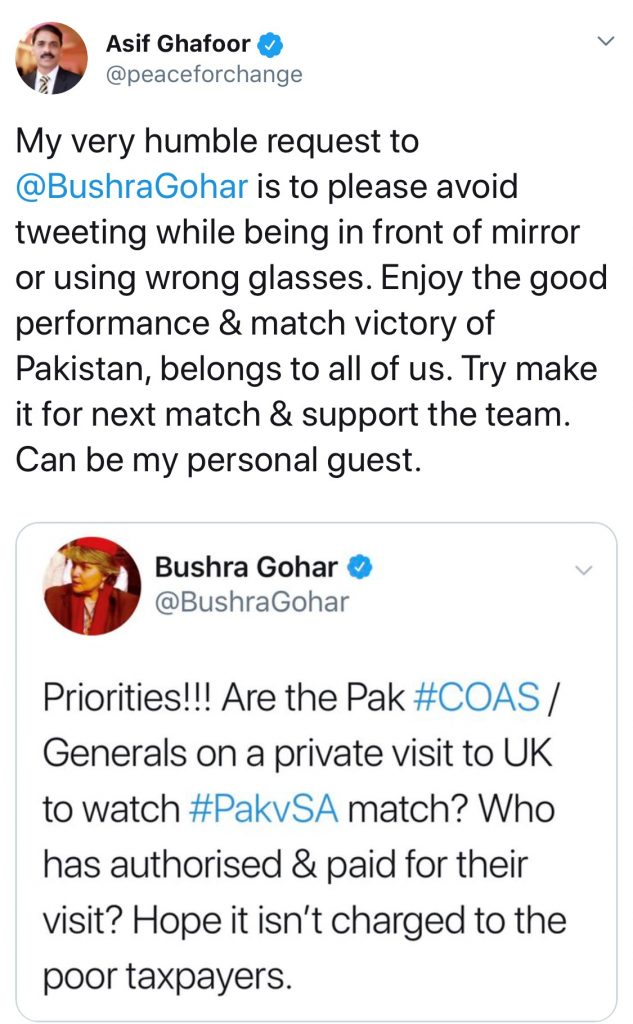 As is often the case the general also described Pakistan's win against South Africa as a victory – strange from the spokesperson of an army that has yet to win anything on the battlefield.
Now a video has surfaced, courtesy a fawning army fan, that shows COAS General Qamar Bajwa and his entourage entering their special box accompanied by British Pakistani businessman and PTI funder Aneel Musarrat. Mr Musarrat is seen with a list of the guests, as well as seems to have their tickets in his hand which he distributes to the entourage.
This raises the question is it appropriate for Pakistan's senior military officials to entertain themselves to a cricket match while on an official visit and that too at the expense of a businessman of dubious repute? Considering that the Pakistani military holds every Pakistani civilian to very high moral standards this question is definitely one that needs to be answered.