The tragic situation in Parachinar has turned from bad to worst. First, the people are attacked repeatedly and agencies appear to be completely outfoxed as even in most secure areas, still terrorists are able to carry out attacks easily. The most recent attack which killed scores of innocents was virtually ignored, as PM preferred to condole those killed in Bahawalpur accident, and COAS preferred to spend his time at LoC.
Meanwhile, as the poor people of Parachinar protested their treatment, their cries were virtually ignored by major media groups adding to confusion and making the people feel helpless and abandoned. Then, the insult became injury as self-styled social media 'defence analysts' began a campaign to defame and threaten these Pakistani citizens as 'traitors' because they are Shia.
I fail to understand, except that it is sectarian blindness, as to why Shia community in Pak is not asking Iran on role in Hazara killings??

— Zaid Hamid (@ZaidZamanHamid) June 27, 2017
#YouCantDivideUs
One of the most sinister propaganda & lies being spread within Shias is that Pak army has created SSP/LeJ..Be careful here.

— Zaid Hamid (@ZaidZamanHamid) June 28, 2017
I am not blaming their saner elements but the stupid Shias perhaps deserve Lej treatment if they cant see that I am the friend & not enemy..

— Zaid Hamid (@ZaidZamanHamid) June 27, 2017
The attacks in Parachinar are likely being facilitated from inside. Shias there should sort out their own community traitors first. https://t.co/6ucuxTLBxL

— F. Jeffery (@Natsecjeff) June 27, 2017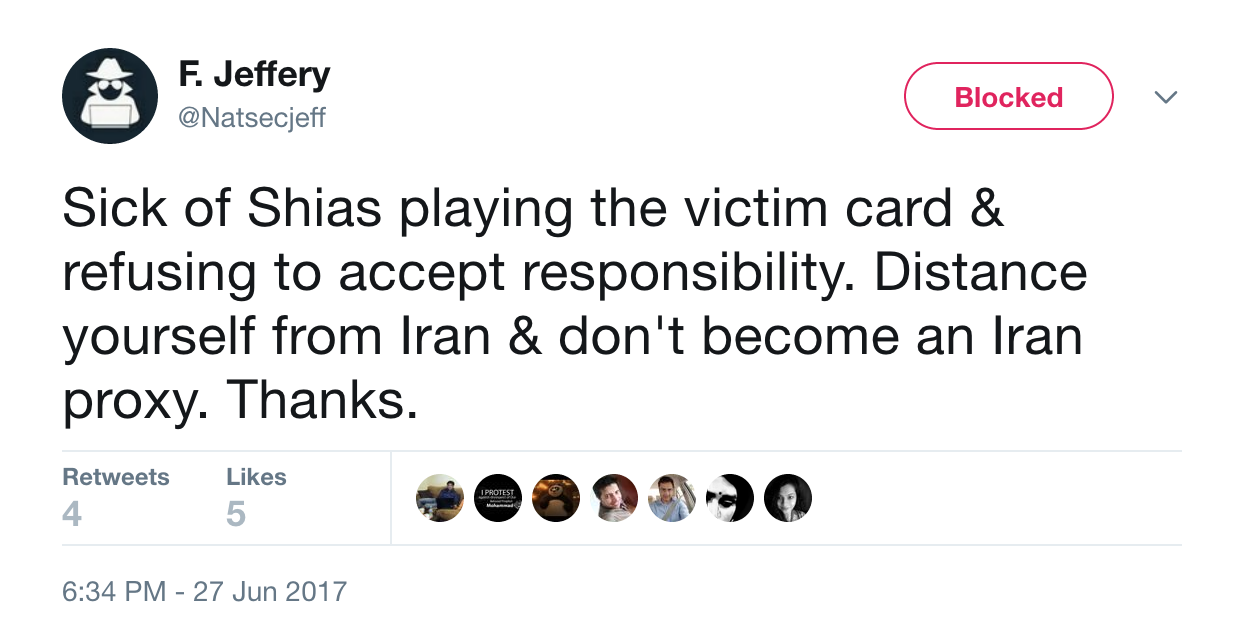 It's sectarian to say Shias should be more loyal to Pakistan? Do you also find associating Deobandis with terror sectarian? Be consistent. https://t.co/4hHxxv8KQw

— F. Jeffery (@Natsecjeff) June 27, 2017
After remaining silent, ISPR was forced to confront the anti-Shia sectarianism being projected across social media by these accounts with links to Army.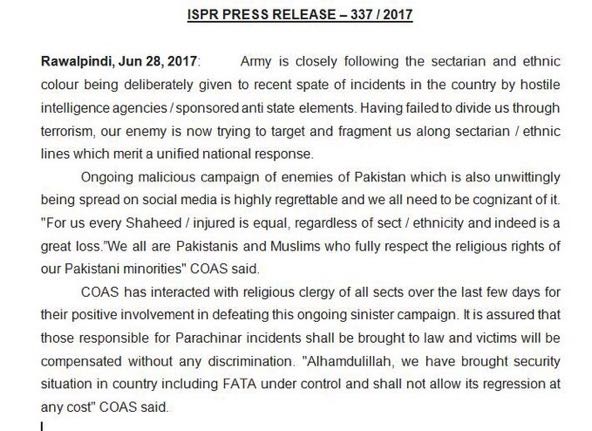 However, it must be noted that the meaning of the official statement is unclear as it does not note who exactly Army is holding responsible for spreading sectarian hatred. Actually, this message is being promoted even by those spreading sectarianism.
Pak Army's statement on the sectarian hatred that is being spread after Parachinar blast. Thankfully we still have a functioning institution pic.twitter.com/I4WCnC231m

— F. Jeffery (@Natsecjeff) June 28, 2017
So what is the message exactly? Those pro-Army accounts who are terming Shia as 'traitors' obviously believe that Army has endorsed their hate speech. This only puts Shia citizens in even more dangerous position.
To clear the air, ISPR needs to issue an official clarification to inform whether they endorse or condemn the sectarian hate speech being spread by Zaid Hamid, Faran Jeffrey, and other Army-linked social media commandos. Otherwise, is it the case that Army is reading from the same playbook that tried to silence Bengalis and then Mohajirs by spreading the narrative that they are 'traitors' to Pakistan?