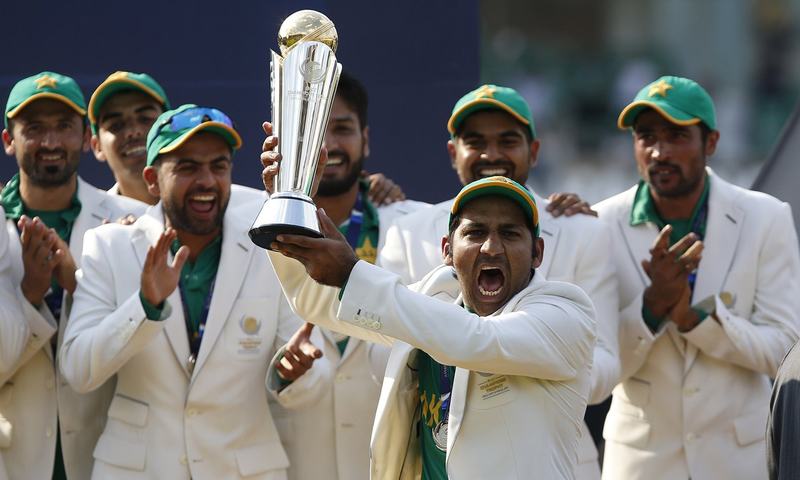 It is hard for me to write anything since I haven't had enough sleep in the past 48 hours. I'm still not sure whether I'm actually asleep and dreaming. If that is true, I hope I never wake up from this beautiful dream. However, like all dreams, there are some elements of anxiety that have creeped in also.
Despite the awesome victory, some of our fellow countrymen are not satisfied to celebrate they have to turn it into a weapon for their personal wars. In politics, Imran Khan's Army 'celebrated' by attacking Najam Sethi. In case you thought this was the actions of some unruly youths and not part of PTI's culture, please note that PTI's official social media channels even posted the embarrassing event.
Spotting Najam Sethi after a glorious win, jubilant Pakistanis burst spontaneously into #GoNawazGo outside the Oval#ICCTrophy2017 pic.twitter.com/cAX6uXVE19

— PTI (@PTIofficial) June 18, 2017
If PTI's official channels are trying to use the victory to advance their political war, other official channels tried to use the victory to advance another war.
Valiant soldiers of Pakistan congrat Team Pak & Nation. United we shall defend Pak against all threats our enemies hatch.#HumSabKaPakistan

— ISPR (@ISPR_Official) June 18, 2017
Meanwhile, on the other side of the border, messages posted that were both humble and gracious in defeat.
Yes Pakistan, you have defeated us. Well played, outplayed us in all departments. Many congratulations, I concede. Best wishes!

— Rishi Kapoor (@chintskap) June 18, 2017
ViratKohli gracious in defeat. Congratulates Pakistan. Admits India were outplayed. pic.twitter.com/giqUYIzo6v

— Faisal Sherjan (@fsherjan) June 18, 2017
If I am thinking about why we can't enjoy a victory without turning it into a weapon, I have to think that when all you have is an Army, everything looks like a war. But I am not thinking about it anymore. I am choosing to enjoy the sweet victory for what it really is – proof that this country is more than an Army, and that we have more to offer than war.