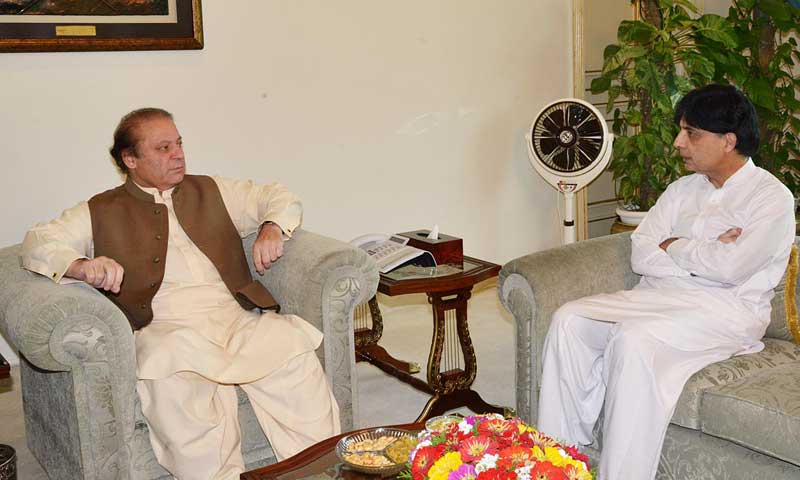 Nawaz Sharif gave a commendable speech today in Chakwal, saying that his government is dedicated to improving the lot and lives of religious minorities and promoting the mindset of 'for you is your religion and for me is mine'. He told the audience that he is prime minister of all Pakistanis and "not just Muslim Pakistanis". The Prime Minister should be applauded for giving this important message. Unfortunately, he has a problem.
No, it's not his past flirtation with becoming 'Ameer ul Momineen'. The past can be forgiven if the present proves different. In this case, there is a question mark because while Nawaz is saying the right thing, he is keeping in his government powerful ministers who are saying the opposite. Day before PM Nawaz gave his impressive speech, his own Interior Minister Chaudhry Nisar told a completely different story, declaring that sectarian militants cannot be considered terrorists. Nisar's remarks sparked a walkout by opposition Senators.
How can anyone take seriously the PM's words about ending religious intolerance and sectarianism when his own Interior Minister is seen serving tea to the heads of proscribed hate groups and giving his own speeches defending sectarian militants? Nawaz Sharif has a choice. He can keep Chaudhry Nisar and continue to give empty speeches and have no one believe him, or he can sack Chaudhry Nisar and go down in history as a PM who actually put his words into action to improve the country. He can't do both.