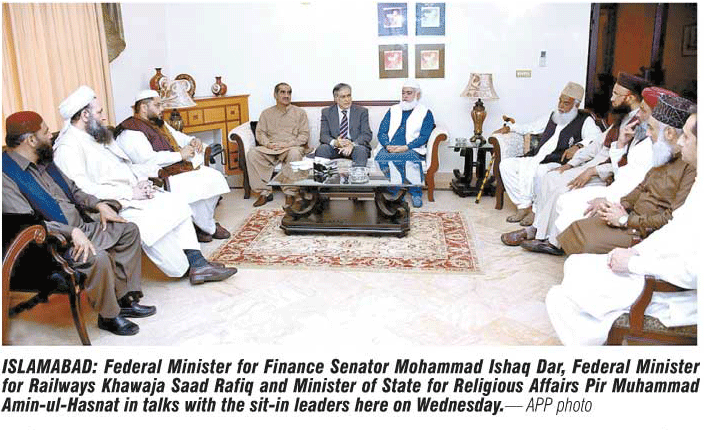 While government and military leaders promise a fight till the end against religious extremists, the reality appears to be carefully working out the terms of surrender. PM Nawaz and his Cabinet have agreed not to carry out any counter-terrorist operations in Punjab after the deadly suicide blast at Gulshan-i-Iqbal Park in Lahore on Sunday. According to the PM, "There is no room for any [military] operation in Punjab as there are neither any safe havens of terrorists here nor a territory is controlled by militants". While PM is taking responsibility for this decision, there is little doubt who really makes such calls. GHQ has decided that militancy and extremism will be permitted to spread in Punjab.
While the militants remain free to spread their poisonous ideology and prepare fresh attacks, the state is also taking its marching orders from religious extremists. This was recently shown when Punjab Law Minister Rana Sanaullah permitted Ulema to re-write a women protection law that after it was passed by the people's elected representatives. Now it appears that surrender has once again been the result of religious extremists using threats to hold the nation hostage.
After supporters of a convicted killer seized the capital, government has reportedly given in to a series of their demands:
'1. All arrested during the sit-in will be released.
2. All cases against various Ullema will be reevaluated.
3. Section 295-C of Pakistan's Blasphemy Law will neither be changed nor reevaluated.
4. No person involved in blasphemy will be spared.
5. Ministry of religious affairs will be told about the implications of Nizam-e-Mustafa (SAW).
6. The schedule list will be evaluated and the names of innocent will be extracted from the list.
7. All cases against protestors will be annulled'
Pressed with questions about the surrender, Interior Minister Chaudhry Nisar did not deny the agreement, only responded that there has been no 'written' agreement. Nisar further explained why saying that "No one has the authority from the government to finalize any deal in writing." Interior Minister appears to be trying to fool the people by speaking vaguely while actually giving everyone the understanding that the agreement was actually made verbally as per the statement of the extremist leaders.
More and more analysts and experts are recognising that military operations alone are not enough to rid the nation of the scourge of terrorism. The extremist mindset must be addressed also. However, just as the state has ruled out military operations against terrorists in certain parts of the country, the state also appears to have decided to give in to the demands of unelected clerics and extremist religious party leaders. Let us call this strategy by its name: Surrender.