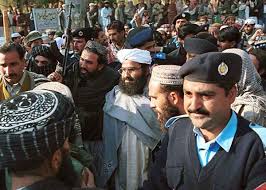 Questions were raised about the status of Jaish-e-Mohammad chief Masood Azhar after he was picked up by security forces following Pathankot attack at the beginning of the year. Official reports claimed that authorities were cracking down on the militant group without favour as per its international obligations. However this was quickly cast into doubt when Punjab Law Minister Rana Sanaullah clarified that Azhar was not arrested but being held in 'protective custody', a term usually used when the state is protecting someone who faces threats.
Questions about the authenticity of the state's efforts against 'good' militants have returned following reports that Pakistan has refused a request by Indian authorities to join their Pakistani counterparts in questioning the militant leader.
India wanted to send investigators to interrogate Masood Azhar and his brother but Pakistan "politely refused" it, a senior official said.

Pakistan assured India that Islamabad was seriously investigating the case and will not hesitate to act if anyone was found guilty, the official said.

"India wants us to hand over Masood Azhar and Hafiz Saeed and as we have declined a number of times, they want us to at least give access to the investigators to interrogate them. We have told them it was not possible," he added.
The refusal to allow Indian investigators to question Masood Azhar confirms for many the belief that his custody is more 'protective' that officials are admitting. This belief is also supported by the decision of the Pakistani official to mention Hafiz Saeed who is not even under investigation for Pathankot attack.
India has not asked for Masood Azhar to be handed over. Only they asked for their investigators to join Pakistani investigators in questioning the suspected mastermind. Pakistan's refusal to cooperate with this request raises questions about whether the state is honestly interested in finding proof against certain elements, or whether they are actually interested in 'protecting' them.