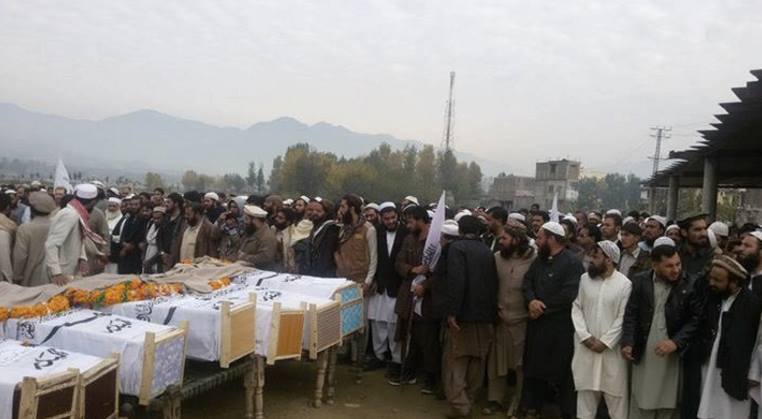 It has been almost one year since PM and COAS declared a policy of 'zero tolerance' for terrorism in the country. Since that declaration, secular political parties such as MQM and PPP have been targeted by Army for alleged ties between some members and terrorism. However these links are still unclear and seem to exist more in the statements of their accusers than in hard evidence. Actually, the amount of evidence that has been presented against these parties makes even the notoriously thin dossiers against India appear to be fool proof cases. Meanwhile, there is another political party whose ties to terrorism have been exposed in pure daylight, but where is the response?
A few days ago, photos and videos surfaced on social media showing funeral prayers for dozens of Pakistani jihadis who were killed in Afghanistan. The coffins were draped with flag of Al-Badar Mujahideen, the Kashmiri militant group with close ties to Jamaat-e-Islami. The photos were originally posted by JI leader Akhunzada Noor Elahi whose Facebook page is filled with Jamaatis praising these militants. It should also be noted that reports say several of the militants were also members of Jamaat-ud-Dawa.
Media has been mostly silent about this story, but GHQ's response will tell an important story. If 'zero tolerance' is more than a PR campaign, we should see raids of Jamaat offices and arrests of Jamaat men? Interior Ministry has said that JUD is on 'watch list'. Are they watching this episode? Will anything be done in response?
Army operations against MQM and other political parties have been defended strongly as not political but only enforcing the so-called 'zero tolerance' policy against militancy. Now it is time for GHQ to prove whether it is truly a 'zero tolerance' policy against militancy, or whether the same old policy of protecting 'good Taliban' remains the name of the game.