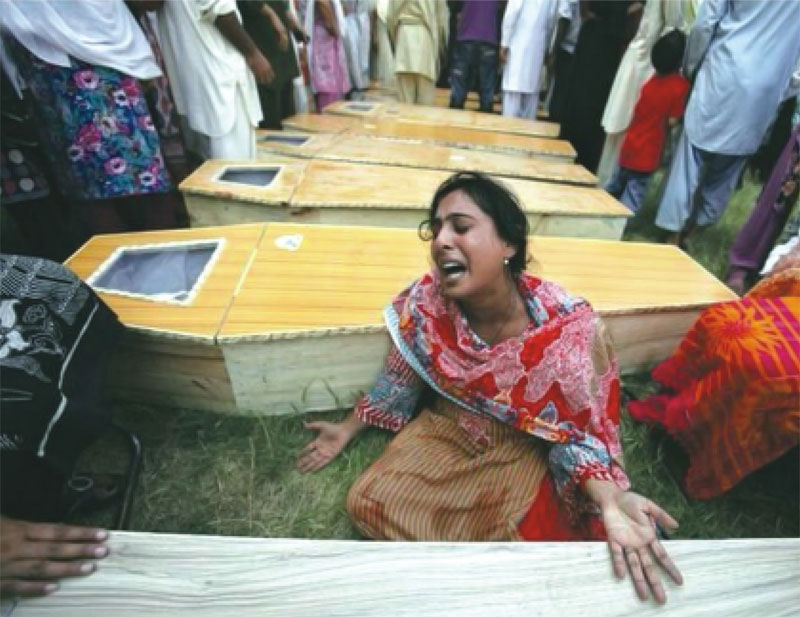 16th December was supposed to be a turning point. The brutal massacre of hundreds of innocent children at APS Peshawar had finally awoken the nation and united our resolve to defeat the real enemy – the jihadi extremists that had killed tens of thousands of Pakistanis since the last ten years. It is almost six months since that black day, and where are we now? The truth is not encouraging.
Following APS Peshawar attack, death penalty moratorium was lifted and we were told that terrorists would no longer escape justice. The reality has been different. Yesterday, UN High Commissioner for Human Rights Zeid Ra'ad Al Hussein lamented the way that death penalty is providing neither deterrence nor justice.
"I share Pakistan's outrage and grief at the senseless killing of 145 people, including 132 schoolchildren, by the Pakistani Taliban in December last year, but I am very disturbed that the response of the Pakistani authorities has been to execute just as many people in the six months that have passed since the massacre," Zeid said.

"Pakistan has gone from zero to 154 executions in just six months, making it the third most prolific executioner in the world."

"Yesterday's execution of Aftab Bahadur who was only 15 when he was convicted of a murder 23 years ago, and whose claims that he was tortured into confessing were unheeded, suggests a very troubling approach to the use of the death penalty in the country. Reports indicate that two witnesses who testified against Bahadur recanted their testimony, but were simply ignored," the High Commissioner said.
Instead of hanging terrorists, we have been hanging people convicted of committing crimes unrelated to terrorism. Worse, we are executing people convicted as juveniles decades ago and left to rot in prison despite witnesses declaring their innocence.
We demanded military courts as a means to stop the revolving door that let extremist militants go free. Since then, we have a jihadi assassin acquitted on terrorism charges and 8 of 10 terrorists responsible for attempted assassination of Malala Yousafzai acquitted also…in secret.
Following APS Peshawar, we were told that all militant groups would be taken on with no show of sympathy or favour. Finally, the extremist threat would be rooted out of the country. In reality, though, we have seen the state increase its operations against everyone but the extremists. Yes, there may be increased attacks against militant bases in tribal areas, but in the rest of country, supposedly banned extremist groups like Jamaat-ud-Dawa and ASWJ carry out their work with complete freedom. Instead of pressurising extremist groups, the state has turned up the anti-India rhetoric and is carrying out operations against secular political parties and welfare organisations.
The result is undeniable. After a brief period of decline in militant attacks, they are rising again. And now it is not only Army that is being targeted, it is all of us. It is not only tribal areas that are affected. The disease has spread into the urban areas. We failed to do the needful. We failed to even follow our own advice. And now it is us who are paying the price.
The state has lost the plot completely. Six months after the black day of 16th December, we are a nation in disarray. Government and military officials appear confused and grasping to the same old paranoid delusions that brought us to this point. Terrorists still carry out attacks with impunity. Things are getting worse, not better. If this is our response to APS Peshawar massacre, it is an insult to the memory of those dear children whose lives were taken. It is a sign that the worst is yet to come.