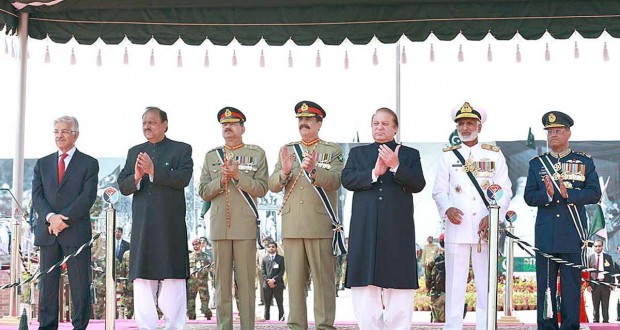 Pakistan Air Chief Marshal Sohail Aman announced that operation Zarb-e-Azb has 'backbone of terrorists'. It is a welcome announcement and one that I pray is true. But forgive me if I greet this declaration of victory with some sense of sceptism. You see, I have heard it before. Several times, actually.
In August of last year, military officials declared that operation Zarb-e-Azb had 'crippled' command and control system of TTP. A few days later, the 'crippled' Taliban carried out audacious attacks on Samungli and Khalid airbases.
Next month, DG ISPR Major General Asim Bajwa announced that due to operation Zarb-e-Azb, Taliban capacity to carry out terrorist attacks had been neutralised. Unfortunately, his announcement proved to be premature as it was soon followed by the suicide bomb attack at Wagah border crossing.
PM Nawaz waited a few weeks before echoing ISPR's line and announced that Zarb-e-Azb had dealt a 'fatal blow' to terrorists in December, only to have his statement followed almost immediately by the barbaric attack against APS Peshawar.
Each time the military declares victory against terrorists, the terrorists carry out a brazen attack. This has serious and damaging consequences not only to the credibility of the Army but to the national psyche as well. By making declarations that are not in line with reality, Army leadership not only makes people doubt what they are saying, but what they are doing also.
I hope that this time the military is telling the truth, and that operations against terrorists have finally been dealt a fatal blow. But forgive me if my hopes are tempered with an abundance of caution, as it is a story I have heard before.