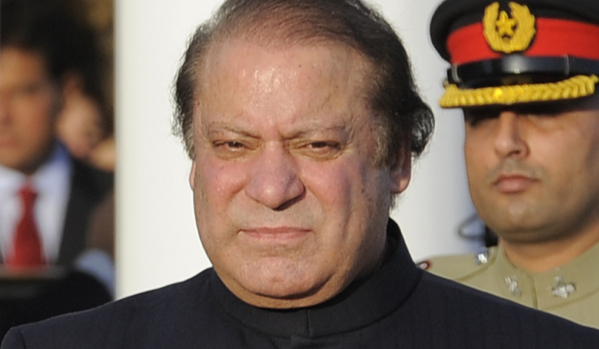 It was an incredible political blunder. Talking to a room of famous journalists, Prime Minister Nawaz Sharif called his Indian counterpart 'dehati aurat'. And he did so not on some random day, but as the two leaders had gathered for an important summit meeting. If it was a political blunder, though, it was media genius. Pakistani media loved the point scoring against the historic foe, and the Indian media leaped on the opportunity to lash out against their maligned neighbor. Then a funny thing happened – it turned out that, despite the media reports, Nawaz Sharif never said 'dehati aurat'. So now the questions we should be asking are…who did? And why?
Hamid Mir's claim on Geo TV that PM Nawaz called PM Singh 'dehati aurat' was surprising from many angles. Not only would it be an amateur mistake by a seasoned politician, but it would be a serious violation of ethics for a journalist of Mir's stature to turn what was supposedly a casual joke into an international crisis.
The other surprising thing about Hamid Mir's story is that it supposedly took place not in a one-on-one interview, but in front of a group of people that included Indian journalists. Surely the PM would know that Indian journalists would not take such a remark lightly.
And here's where the story falls apart.
One of the Indian journalists in the room, Barkha Dutt, explicity denies that Nawaz Sharif ever uttered such a phrase. Actually, according to the NDTV anchor, Nawaz was outgoing and friendly toward his Indian colleague, calling him '"a good man" whom he would live to welcome in Pakistan "for a long overdue visit"'.
Once Dutt came forward, even Hamid Mir began to back track, posting on Twitter that "PM Nawaz never said anything derogatory against Manmohan".
@akshri_250 PM Nawaz never said anything derogatory against Manmohan

— Hamid Mir (@HamidMirGEO) September 29, 2013
So now it wasn't the PM who used the phrase 'dehati aurat'. So who did? It is a puzzling mystery. And why would anyone want people to believe the the PM did say this? Who could possibly stand to gain from sabotaging improved relations between the two powers which have poured millions into security budgets at the expense of their own development due to decades of suspicions and perceived insults?
Unfortunately for the PM, this was not the only media headache he has to deal with. Another familiar old tune is starting to be hummed in certain corners of the media. According to a report on Saach.tv website, PM Nawaz Sharif's visit to New York is costing "as much as 400,000 US dollars"! As if on cue, cries of 'Rich nation, poor leaders' and 'national looters' begin to ring out. Kamran Shafi thinks the dish being served smells off, though.
There is an internet news source called SaachTV, which has at least on one occasion told a most blatant lie; and on the second, what certainly seems like one. The lie was when it propagated that Prime Minister Yousuf Raza Gilani's family had 'left for London' the day he was removed from office by the Supreme Court. This was a patently false bit of news, which when I pointed it out on the social media, a person representing the source tweeted words to the effect that it was 'rumoured'.

When told it should then be said that it was a rumour, there was no answer. The second and most recent seeming lie is only two days old: That according to the Pakistani Consulate, 40 limousines were hired in New York for the PM's "family and aides" and a sum of $400,000 was to be spent on a banquet at $100 a plate. Forty limos for the PM's 'family and aides'? I doubt that so many would be needed for the whole delegation. Also at $100 a plate there would have to be 4,000 guests. Did they hire Yankee Stadium to fit in so many? Or was there a massive garden party in Central Park? Someone should do something about this JhootTV!
Kamran Shafi makes an important point that the numbers don't add up, but there's another point, too, that should be noted – this is a claim that is easily checked out. If there are real concerns that the PM's trip to New York was wasting money, why not check the expenses? During a time when even supposedly 'secret' funds are being revealed, surely these public expenses could be audited.
It is also important to note Kamran Shafi's observation that this same 'news source' was spreading lies about the previous government. Could it be that these attacks are not based on political party, but attempts to weaken civilian governments, no matter who is in power? This raises the questions whose interest would it serve to have a weak civilian government? And even if they wanted to undermine relations with India and weaken civilian governments, who would even have the ability to plant media such stories that could create such a narrative in the minds of the people?
Truly, this is a mystery of our time!