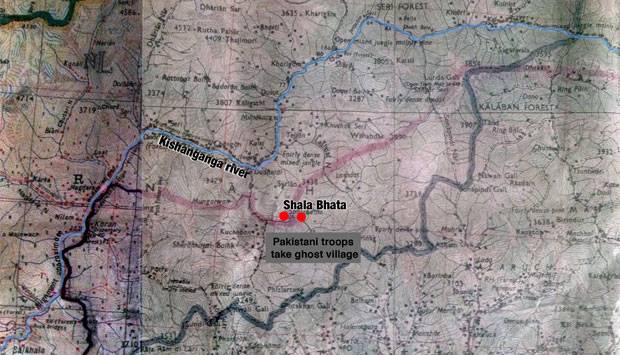 A few weeks ago I suggested that while all focus has been on the debate over peace talks with TTP, an operation with serious repercussions for national security was quietly taking place on the Line of Control in Kashmir. I asked at the time, Is Nawaz once again being cornered by ISI/Jihadis? Despite statements made to international media and meetings held across Pakistan, the media has largely ignored these developments, choosing instead to roll out the same old faces to repeat the same old anti-India rhetoric that we have heard since long. While we were distracted, though, new developments have continued to take place, with worrying prospects for peace.
A breaking story today reports that face to face firing is taking place between Indian Army and Pakistan Army troops after Pak forces crossed the LoC and seized ghost village Shala Bhata:
IBN7′s Khalid Husain has reported that Army sources said there is face to face firing going on as after the infiltration into Indian posts which were unmonitored for week. The report adds that Indian army launched operations using helicopter gunships. The posts were allegedly captured by men wearing Pakistan army uniform. The army has denied capturing anyone and says they have killed 22 infiltrators.

Fighting, the sources said, is still taking place in the village of Shala Bhata, where Pakistani irregulars and special forces personnel are using abandoned homes to fire on troops attempting to clear the area.
The details between this report, if true, and the previous fiasco at Kargil are disturbingly similar. Coalition of military and jihadi militants cross the LoC to seize abandoned post, forcing a confrontation and attempting to 'change reality on the ground'. Is Nawaz Sharif once again being undermined by invisible forces whose disgust for civilian politicians and peace talks with India are well known? Is it mere coincidence that this operation allegedly took place while Pakistan and Indian PM were meeting ton talk about advancing a peaceful solution to long standing differences?
Before elections in May, many predicted that certain factions in the military would never allow Nawaz Sharif to take power again. And yet, once the final vote was counted, Nawaz Sharif found himself the winner, causing great irritation among his detractors. Is this one of the 'ground realities' that they are trying to change?
During the last eight months, almost 5,000 people have been killed in target attacks, security operations, militant attacks and terrorism. War with India would be madness at any time. Today is would be murder-suicide.
Neither side can afford to be dictated to by madmen bent on war. Both sides must pull back and keep peace talks going. There is simply no other option.