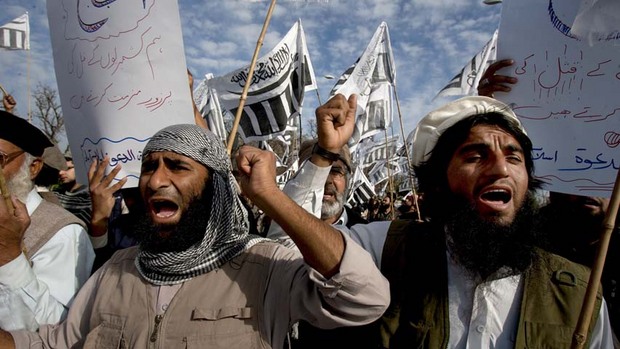 During the previous government, it seemed that whenever officials began making progress on talks with their Indian counterparts, something would flare up in Kashmir that would increase tensions as the right-wing elements in both countries began rattling swords. Today we see the same predictable cycle taking place, which begs the question whether once again the incidents at the LoC are a drama being stage managed to manipulate the government for the interests of certain quarters rather than the interests of the Pakistani people. It's time to declare independence from these hyper-nationalist elements, and take our country back.
Last week, heavily-armed militants in Kashmir killed 5 Indian soldiers patrolling the LoC. Is it any coincidence that this took place on the brink of renewed composite dialogue talks with India?
This was not the first time such an incident has derailed talks. Dawn notes in its report on the latest killing that "A deadly flare-up along the LoC border in January brought low-level peace talks to a halt which had only just resumed after a three-year hiatus sparked by the 2008 attacks in Mumbai that killed 166 people."
A few days after the killing of five Indian soldiers, Lashkar-e-Taiba founder Hafiz Saeed led Eid prayers in Lahore, seen as a slap in the face to many on the Indian side who hold him responsible for the deaths of hundreds of their countrymen in the 26/11 attacks in Mumbai.
And now? Saeed's legacy, Lashkar-e-Taiba, tells media that it is preparing to start a war with India.
Obviously, India is not blameless in this regard either. On Sunday, Indian troops fired at Pakistani posts across the LoC, violating the 2003 ceasefire accord and adding fuel to the hyper-nationalistic rhetoric, and the Indian media has been fanning the flames of their own hyper-nationalists since the past weeks as well.
But we should not be led by the nose every time Indian hyper-nationalists try to whip up anti-Pakistan sentiments inside their country. Nor should we allow ourselves to be led by the nose by our own hyper-nationalist elements and their masters who are pursuing their own interest at the expense of the nation which continues to suffer. Who will gain from a war with India? Extremist militants and their patrons who will use the tragedy to line their pockets and entrench their power. Who will lose? The overwhelming majority of Pakistanis who have nothing to do with either.
Today, let's declare independence from the hyper-nationalists and their agenda which is holding us back from peace and prosperity. Let's trade in commerce, not death. Let's build our country, not let it be destroyed.