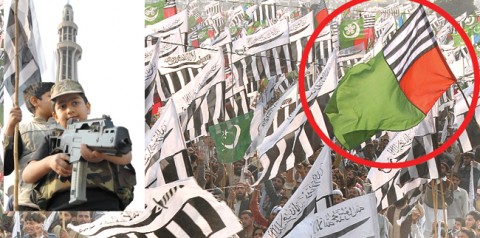 While the judiciary continues to devote countless time and resources to the fantastic story telling of one man, a growing threat to national security is building up under the nose of the Chief Justice.
On Sunday, thousands of people gathered in Lahore for a rally against the US organised by religious parties. Now, this might be dismissed as just another Sunday except this was more than the usual street protest against the war on terror. This was a public statement by banned militant groups who held a pro-jihadi rally in blatant defiance of the law.
Banners and posters advertising the conference and flags of Lashkar-i-Taiba, an outfit thought responsible for the Mumbai terrorist attack of November 2008, have been put up around the city. The group has also set up reception camps. All of these actions are in violation of a code of conduct issued by the administration, according to an intelligence agency report. It said the code was being "violated openly, particularly regarding display of flags and posters of a proscribed organisation".
Banners for the rally proclaimed Difa-i-Pakistan jihad-i-fi sabilillah se hoga' (Pakistan's defence is only possible through jihad), and many on the scene saw the rally just as it was intended, as a public recruitment and rallying cry for jihad.
"Instead of giving a positive impression, clerics chose to call a banned organisation which came with weapons and flags. Even though the cause of the rally is a good one, but I smell danger because everyone will get the impression that the aim of the rally was to recruit terrorists," said Usman, another citizen.
During the rally, Lashkar-e-Taiba founder Hafiz Saeed openly declared intentions to organise militant groups to carry out armed attacks against India.
Hafiz Saeed said that JD would not allow the government to grant most-favoured nation trading status to India. "We will surround the markets where Indian goods are sold," he said, adding a call for revenge against India for the separation of Bangladesh from Pakistan.

JD leader Hafiz Abdul Rehman Makki said that the participants wielding JD flags had been trained to use rifles and Kalashnikovs. "When they head towards India with weapons, no one can resist them," he said.

Former ministers Sheikh Rasheed Ahmed and Ijazul Haq, son of the late dictator Gen Ziaul Haq, also addressed the participants.
While most of the participants at the rally were from religious parties and militant groups, disturbingly, PTI chief Imran Khan also sent a special message to be read at the jihadi rally.
While the judiciary hears every manner of petition against the government, an actual national security crisis is brewing. Citizens might think that the Chief Justice would take notice of this growing threat to national security, but apparently he has other priorities right now…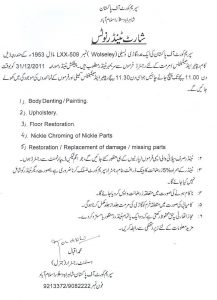 Short Tender Notice for the repair of a 1953 vintage Woleseley car owned by the Supreme Court of Pakistan taken from the Supreme Court website.