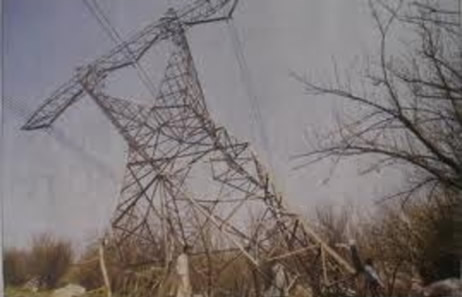 Babar Ayaz makes a good overview of causes of and solutions to load shedding in Daily Times. But as usual there is one major cause of power shortage that is conveniently left out of the discussion.
KOHAT, April 1: Unidentified militants blew up two electricity pylons in Bazid Khel area adjacent to the frontier region of the district here on Thursday night.

Officials said that due to the destruction of 132KV power pylons, electricity was suspended to Mianwali and Dera Ismail Khan.
GHALANAI – Most areas in Safi Tehsil plunged into darkness after militants blew up two high-transmission power towers in the Mohmand tribal region April 11.

Explosives destroyed pylons in the Qayumabad and Bayankhel areas of Safi Tehsil, local residents said. Several parts of Mohmand and Bajaur agencies lost power, as did the Mamagat grid station.
The home secretary, Akbar Hussain Durrani, a neatly suited, well-spoken man, sits in a dark and chilly office. Pens, staplers and telephones are neatly laid on the wide desk before him, but his computer is blank. The rebels have blown up a main pylon, he explains, so the power is off.
Meanwhile, militants blew up three power pylons in Razghar Mela, disrupting electricity to seven villages of Sheikhan tribe.
QUETTA: Most parts of central and northern Balochistan were without electricity due to the destruction of power pylons in the Aab e Gum area of Bolan district the other day.

According to the Qesco officials, unknown saboteurs blew up four power pylons shouldering 220 kv and 132 kv transmissions line in Aab e Gum on Saturday night, which caused disruption of electricity to 35 power grid stations in Quetta, Zhob, Pishin, Chaman, Noshki, Kalat, Khuzdar and other areas.
And what happens when militants blow up power pylons? The lights go out.
QUETTA: Owing to a shortfall of more than 800 megawatts, the Quetta Electric Supply Company (Qesco) has increased the duration of power loadshedding in most parts of the province.

The Qesco officials said on Saturday that unknown miscreants blew two power pylons shouldering 220kv power transmission line on Feb 18 late at night, near Bakhtyarabad which increased the power shortfall to 800mw.

Currently, out of three transmission lines only one transmission is operative. The Qesco officials further said that National Transmission and Dispatch Company (NTDC) which owns the pylons would launch repair work on the destroyed pylons after receiving security clearance.

The official also said that Saturday afternoon the 220kv NTDC power transmission line between Giddu and Sibi tripped due to a jumper failure causing power shut down in Quetta, Chaman, Pishin, Kalat, Khuzdar, Zhob, Qila Saifullah and other areas. The NTDC experts were able to overcome the fault in some three hours.
Every time NTDC has to use resources to repair and replace infrastructure destroyed by militants, it sets back progress on improving the infrastructure for generating and delivering electricity. You think militants don't know this? No. This is a deliberate strategy to turn the people against the government when the fault is with the militants.
Why Imran Khan and his friends in JI can organize a protest to block NATO supply lines, but can't be bothered to organize a protest against militants blowing up our own supply lines? Why SHC can issue orders to Oil and Gas Regulatory Authority to supply maximum gas to avoid loadshedding in Sindh and Balochistan but can't do anything about militants who are knocking out the power pylons and causing load shedding in the first place?
Sure there are other problems that are factoring into the energy shortage. Some of those factors, like the rising price of fuel on the global market, we can't do anything about. Other problems like theft should be dealt with, but getting rid of all the power theft would not get the lights back on. Before we complain about things we can't do anything about – or tiny parts of the problem – we need to stop ignoring the role militants play in causing the whole mess.