There is no doubt Pakistan has experienced a tumultuous 2010. Heartbreaking reports of terrorism filled the headlines as floods submerged one-fifth of our nation. Our great country is working to better itself on multiple fronts – social, political, and economic – and our current place on the world stage allowed the entire world to bear witness to our progress. Two women, in completely separate instances, have captured some of the biggest challenges we must overcome. They are Dr. Aafia Siddiqui and Aasia Bibi. These two women would become respective symbols for right wing and liberal groups, as activists on both sides sought to define Pakistan's national identity.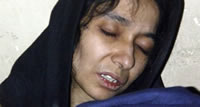 The arrest, trial and verdict in the case of Dr. Aafia Siidiqui captured the world's attention. An American-educated neuroscientist, she was convicted after a jury in a US federal court found her guilty of intent to murder Americans in Afghanistan. In September 2010, she was sentenced to 86 years in prison. A Muslim who engaged in Islamic charity work in the US, she moved back to Pakistan in 2002. It was reported that her second husband's uncle, Khalid Sheikh Mohammad (the infamous alleged planner of the September 11th attacks) mentioned her name to his interrogators, saying she was involved in similar activities, and thus led to her own interrogation by authorities.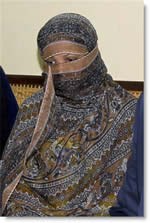 Aasia Bibi has nothing in common with Aafia's background or the terrorism links. But her situation too, captured the world's attention and brought sharply worded criticism towards the Pakistani laws that seemingly punish minorities.  Her story begins in the blazing summer heat of 2009, when other rural workers refused water from her because she was a Christian. The 45-year old mother of five was charged under Pakistan's archaic and cruel blasphemy laws. The case has drawn international condemnation, and even Pope Benedict XVI has called for her release.
With the issues highlighted in both cases, we can see Pakistan faces challenges on all fronts – security, political, and social.
Multiple protests and riots have erupted all over Pakistan as supporters of Aafia Siddiqui, as her case has added to the fuel to the "Hate America" fire. She has become the poster child for the idea that Americans hate Pakistanis, and have framed an innocent woman. In a country overflowing with conspiracy theories, it is hardly surprising that Aafia's tale has proven to intensify the right wing base.
Aasia Bibi's case has brought to light the vicious anti-minority laws on the books, and a movement to amend those heinous laws has begun. But just as the right wingers sought to capitalize on this issue as well (a cleric has offered 500,000 rupees to anyone who kills Aasia), it seems the PPP has stepped up to honor its platform of equality for all.  Punjab's Governor, Salmaan Taseer, has been outspoken on this issue, and will seek a pardon from President Zardari to stop the order of execution. We can only hope the appeals court will spare her life.
Terrorism, security issues, minorities' rights are some of the many issues Pakistan has to face in the coming year. The hope and prayer will always be that in the end, we have created a more perfect society, one that treats all its citizens well.