I'm often accused of being overly optimistic. It's a trait I inherited from my mother. While my friends' mothers were always fatalistic about everything, my mother always tried remain hopeful. Where most saw disaster, my mother saw opportunity. So it is with me, I guess. As I continue looking back over the past year, then, I continue to find reasons to be hopeful for 2011 and beyond.
Yes, we've had a rough go of it this year. Militants are making potential investors anxious. Historic floods wiped out billions. Load shedding seems to get worse by the day. And yet still, when you look at the entire economic picture, there are clear signs that things are turning around.
Stock Market
The KSE 100 is finishing strong this year, up 25 percent since 1 January to close near 12,000. Growth has been steady throughout the year, including in the final quarter.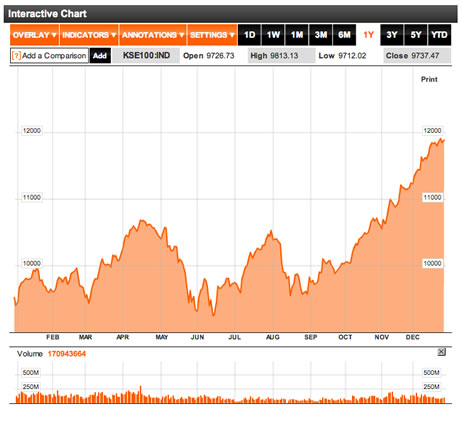 Foreign Direct Investment
Foreign interest is actually partly responsible for driving growth in the KSE 100, with Bestway Group looking to increase shares in United Bank Ltd.
Bandaraya Development Berhad is investing $437 million over a nine-year period in a mixed development project.
China has agreed to increase cooperation in nuclear energy development including the building of two new nuclear reactors in addition to one already operating and another near completion.
Investment by a consortium of Chilean and Canadian companies continues to negotiate with the Balochistan government for an agreement to develop Reko Diq mine in Chagai district.
Ambassador of Finland H E Osmo Lipponen Katja Kalamaki recently acknowledged Pakistan as a potential market for Finnish investors, who have over 400 companies operating in South Asia.
International Trade
Chinese signed trade agreements worth $20 Billion followed by an additional $15 Billion in trade deals.
Malaysia imported $194.72 Million in goods, making it the top importer from Pakistan for the second consecutive term.
Exports surged during November to $1,776 million – 17 percent higher than one year ago and continuing a positive growth trend.
Although the WTO recently rejected EU trade concessions under the GSP facility, overcoming EU concerns to secure the agreement was a great achievement of Zardari, and to its credit the government is also not being fatalistic but continuing to fight for the trade privileges which would mean duty-free access for Pakistani products worth $500 million.
So you see, there is reason to be hopeful. Even the recent IMF extension suggests the international community has faith in the direction the economy has taken. The economic situation is going through a rough patch, but we've survived worse and we will come out of 2010 stronger than we were before. Here's to a happy, successful and prosperous 2011!