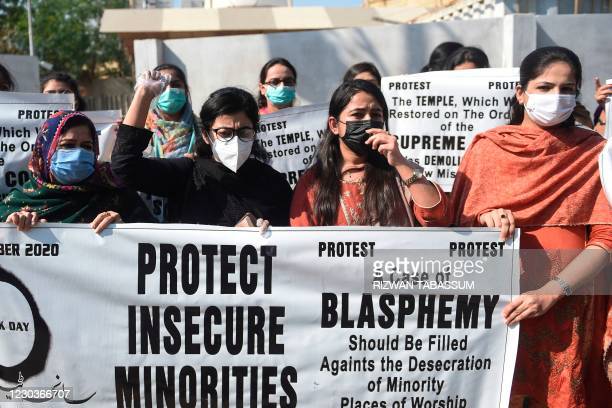 Pakistan is no country for any religious minority, Hindu or Christian or even Muslim sects like Shias or Ahmadis.
One day after Pakistan's Independence Day, on August 16, least 24 churches and several dozen smaller chapels as well as scores of houses in Jaranwala were torched and looted in a series of brutal mob-led attacks against the local Christian community.
According to a fact-finding mission led by the Human Rights Commission of Pakistan (HRCP) this happened following rumours and allegations of blasphemy against a Christian man and subsequent calls for action by Muslims from mosque loudspeakers resulting in thousands of men gathering in the town and proceeding to attack Christian churches and homes.
The HRCP fact-finding mission could not rule out the suspicion "that this was not a spontaneous or random crowd [that led the attacks], but part of a larger campaign of hatred against the local Christians. While the HRCP fully recognises the operational difficulties that the police may have confronted in a small town with meagre administrative and law enforcement resources to deal with a situation of widespread violence, there are concerns with respect to the timeliness of the response as well as weaknesses in the strategy employed to restrain the crowd."
The HRCP mission "recommends reviewing the blasphemy laws so that they are not misused against individuals or any religious minority. Additionally, policies and strategies to deal with organised extremist groups should be devised, especially with regard to enforcement of law and order, so that such groups are neither able nor allowed to undermine the writ of the state."
The HRCP mission also "urges the Punjab government to take measures to implement the recommendations of the judicial inquiry held after the communal riots in Gojra in 2009 so that there is no impunity for organised Muslim religious groups that openly declare their intentions of violent action against religious minorities. The government must also take stern action against any instances of hate speech against any community. The government needs to take urgent measures to compensate the victim community and rebuild the Christian neighbourhoods damaged in Jaranwala. The compensation money must be commensurate with the damage and disbursed swiftly. The administration must publicly clarify that the transfer of the assistant commissioner, a Christian, was not due to any fault on his part but was done to protect him and his family."
The HRCP reminded the Punjab government of the 2014 Supreme Court judgment "calling for a separate police force to be created to protect religious minorities' places of worship must be implemented urgently, and the financial and human resources needed to do this made available without any further delay."