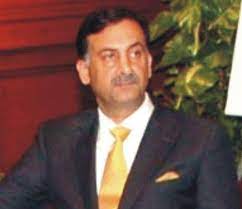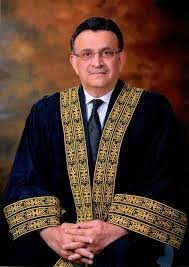 Pakistan has periodically gone through cycles of political instability over the last 75 years. However, at a time when the country needs stability to deal with its economic and security challenges, the very public clash between the judiciary and the government continues unabated.
Two recent developments make it clear how petty the games of power are often in Pakistan.
On April 28, it was reported that the Anti-Corruption Establishment (ACE) Punjab has registered an FIR against Malik Amjad Noon, former honorary chairman of Lahore Waste Management Company (LWMC). The FIR alleges that Noon appointed his relatives to the company, that the latter used fake degrees and certificates, and therefore caused a loss of millions of rupees to the national exchequer. The FIR also alleges that Noon appointed his close associate Azhar Hayat as the head of procurement in the company and Hayat awarded contracts that resulted in the loss of more than PKR 650 million to the company.
This story would normally have been one of many such corruption related stories that one hears about in Pakistan. However, Mr. Amjad Noon is Chief Justice of Pakistan, Justice Umar Atta Bandial's brother-in-law.
In a recent audio leak, the mother-in-law of Chief Justice Bandial was overheard discussing Pakistan's politics and judicial issues with the wife of a lawyer who happens to be one of those pleading cases against the government in the court of the Chef Justice.
The saga does not stop here.
The Anti-Corruption Establishment (ACE) Punjab is currently headed by a Police group officer Sohail Zafar Chattha. Chattha has the reputation of a no-nonsense officer. He gained fame when posted in South Punjab where he sponsored banners across the districts condemning the Tehreek-e-Taliban Pakistan (TTP). The banners read 'Taliban kaiy Haami sab Harami'. Chattha also has a reputation for encounters — eliminating repeat offenders like murderers, criminals, rapists.
Interestingly, whether it is sheer coincident or pettiness – depends on how you read this – if you examine the case list of the Supreme Court for the week May 2-5, 2023, Bench No 1 headed by the Chief Justice of Pakistan is supposed to examine two matters on May 4, 2023.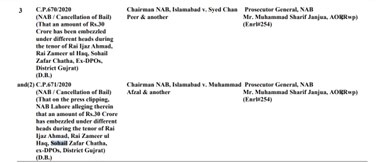 These cases have been pending since 2020. Both cases deal with alleged corruption allegations cases against Chattha that were filed by the National Accountability Bureau (NAB) during the time of former prime minister Imran Khan. The Lahore High Court granted Chattha bail in both cases but the NAB approached the Supreme Court requesting cancellation of the bail.
Chatha has also been in the news for another reason. Two days ago ACE Punjab tried to arrest former Chief Minister of Punjab Pervaiz Ilahi from his residence in Lahore.
Chief Justice Bandial is obviously out to punish Chattha for acting against his brother in law as well as his political allies.