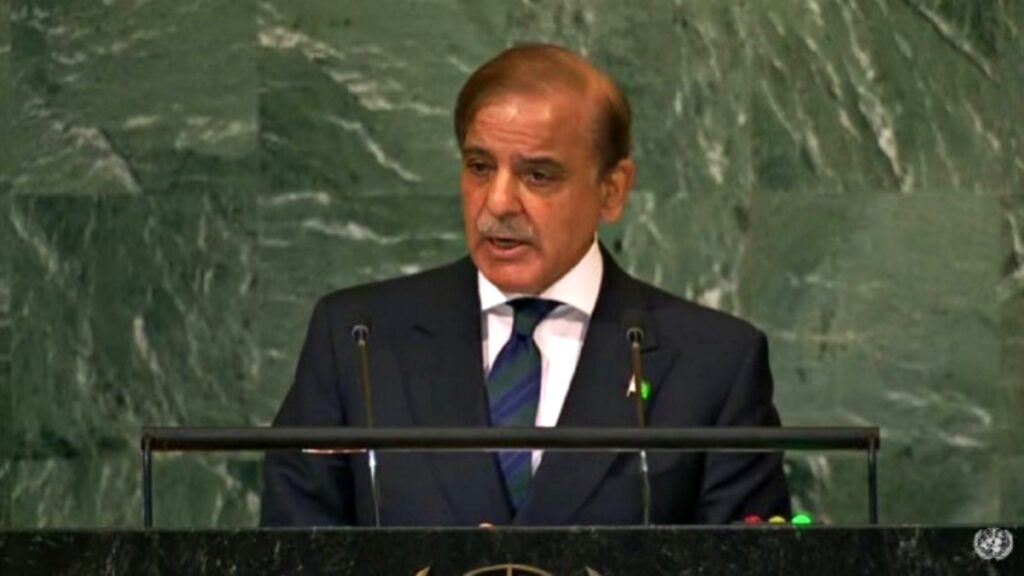 Prime Minister Shahbaz Sharif gave his maiden speech at UN General Assembly on September 23. While the majority of the premier's speech focused on the flood catastrophe that Pakistan is facing, he continued the tradition of all his predecessors of focusing on the Kashmir dispute and placing the onus for good relations solely on India.
In his speech Sharif said that while Pakistan sought peace with all its neighbours, including India, "sustainable peace and stability in South Asia, however, remains contingent upon a just and lasting solution of the Jammu and Kashmir dispute." He referred to said India's "illegal and unilateral actions" of August 2019 to "change the internationally recognised "disputed" status of Jammu and Kashmir undermined the prospects of peace and inflamed regional tensions." "The serial brutalisation of Kashmiris takes many forms: extrajudicial killings, incarceration, custodial torture and death, indiscriminate use of force, deliberate targeting of Kashmiri youth with pellet guns, and 'collective punishments' imposed on entire communities."
According to a story in Associated Press Shahbaz's speech referred to "perennial themes of Pakistan's U.N. addresses" and noted that the speech "echoed a fear common to countries who typically do not dominate the global discourse" – that their issues are ignored by others.
Pakistan is facing multiple challenges – a radicalized society with powerful Islamist forces, a Taliban-led Afghanistan, a flailing economy, a flood ravaged country with millions without access to food and water. At a time like this, Pakistan needs to improve relations with its neighbor, India, so as to boost trade, regional connectivity, and benefit its populace. The refusal by successive Pakistani governments to acknowledge that without improving ties with India we will be unable to really improve the lives of our people is a reflection of Pakistan's ideological paradigm, instead of a pragmatic and realist one.