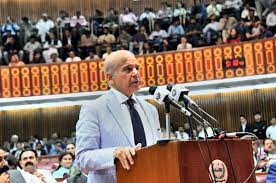 Soon after his election as prime minister, Shahbaz Sharif announced several policy measures, including a commitment to focus on the development of all provinces of Pakistan, including Balochistan. However, the proof of the pudding, as they say, will be in the eating.
To move away from the historical image of PML-N as a Punjab-centric party will require much more than verbal commitments by Mr Sharif.
According to Rafiullah Kakar, a public policy specialist from Balochistan, Mr Sharif's government needs to undertake the following actions. "Firstly, political reconciliation and peace-building must be the foremost priority. No major economic development initiative in the province can succeed without first devising a strategy for peaceful management of the ongoing ethnic conflict. In this regard, the government needs to appreciate the complex landscape of the violent conflict in Balochistan: there is a low-scale but ongoing ethnic insurgency mainly in southern Balochistan, as well as sectarian and religiously motivated militancy concentrated mainly in northern and central Balochistan.
Further, "The government needs to implement CBMs such as stopping military operations, withdrawing the FC from certain areas, releasing all Baloch missing persons and compensating the families of those killed extrajudicially.
Next, "Previous efforts to reconcile Baloch insurgents failed because a) repression went hand in hand with reconciliation efforts, and b) those leading the process had little credibility or freedom to make meaningful offers. Secondly, Baloch concerns regarding control over their natural and coastal resources must be addressed. In this respect.
Further, "measures are needed to alleviate poverty and mitigate the adverse impact of fencing the border on livelihoods. A formal border trade gateway with all allied facilities and necessary trade logistics is necessary in each district along Balochistan's borders with Iran and Afghanistan. Balochistan's share of the Benazir Income Support Programme may be increased to 10pc at least. Its current share is around 4pc, which is even less than Balochistan's share in the total population. This is inequitable.
Finally, "The military establishment's support is a must for the proposed reconciliation efforts to make headway. The military needs to appreciate that a hard approach alone will ensure only temporary peace at best and that a low-level insurgency can continue almost indefinitely no matter what security measures are taken."