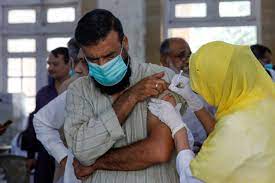 Two years after the spread of Covid19, the world is still having to deal with this pandemic. In Pakistan, cases of the Omicron variant are increasing rapidly, with over 100,000 active infections and almost 8,000 new cases detected in a single day.
According to an editorial in Dawn, "The National Command and Operation Centre records on Sunday showed that 29 people had died of Covid-19 complications over the last 24 hours. The total number of patients in critical care at hospitals touched 1,455, and the national positivity ratio was about 12.5pc. In multiple cities, the positivity ratio has been much higher, with Peshawar and Karachi leading the way."
The editorial also noted "Daily testing, however, is still inadequate, which means the actual number of positive cases is far higher. Though daily testing in the current wave at approximately 70,000 a day is the highest in the country since the start of the pandemic, it is far too low for such a large population — especially given how fast this variant spreads. Indoor dining has been banned in Karachi and Hyderabad, but most other cities are functioning as per usual despite a high number of cases."
While the Omicron variant has not been as alarming as previous waves, we need to bear in mind that only 80.7 million of Pakistan's 220 million have received two vaccines, and only 2.2 million have received a booster does. Hence, what is needed is a need to vaccinate more people to deal with this variant and any future variants.