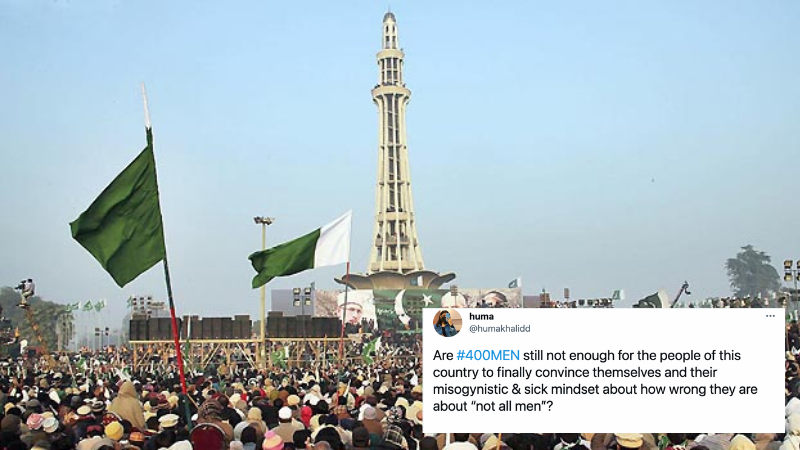 Just a few weeks after the Noor Mukkadam murder, come two incidents that should shame us as Pakistanis: an assault on a couple in Islamabad and the assault of a young woman at Minar e Pakistan on Independence Day.
Early in August, a video went viral on social media in which six men were seen harassing a couple in Islamabad. The men held the couple at gunpoint, forced them to strip and then beat them up. Moreover, they also abused the couple verbally and physically by doing vulgar acts.
On Independence Day, a young woman, a female TikToker and her companions were at Greater Iqbal Park on Independence Day, filming a video when they were attacked by 300-400 people.
As per the first information report (FIR) registered at the Lorry Adda police station, "People were pushing and pulling me to the extent that they tore my clothes. Several people tried to help me but the crowd was too huge and they kept throwing me in the air."
As of Sunday, the police had arrested 36 suspects and they were sent to jail for their identification parade in the case registered. "Some of the suspects alleged before the court during yesterday's hearing that the TikToker had herself invited them to Minar-i-Pakistan to make videos. They asked the court to order the police to also arrest the TikToker and her team members to reveal the facts of the incident"
As an editorial in Dawn noted "The episode has proved a trigger for many women who described on social media how they themselves were assaulted or how they feared they would sooner or later face a similar situation. The trauma and anger among the women is palpable. This incident rubs salt in the deep wounds inflicted by the misogyny rampant in our country — the toxic mentality that allows for repeated assaults, victim-blaming and gaslighting of women. A case has been registered by the Lahore police against hundreds of men, with officials saying the video footage of the attack will help authorities track down the culprits. But bringing these perpetrators to justice is just one part of the solution. There is a tremendous amount of work to be done to correct the public narrative around women's rights."