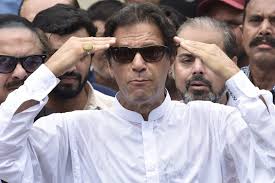 Even for U-Turn Khan as Prime Minister Imran Khan is often called on social media, the recent u-turn and the explanation over the u-turn on the thaw in India-Pakistan relations is mindboggling. Starting with the ceasefire announcement in end February 2021, there was a buzz in India and Pakistan that maybe we would once again witness a thaw in relations. Knowing fully well that these thaws rarely last more than a few months or years, there was still mild optimism in the air.
The ceasefire announcement was followed by COAS General Bajwa's speech on the need for India and Pakistan to move forward and Prime Minister Imran Khan echoed the army chief's views. Indian and Pakistani teams met a sports event in India and in end March, the foreign ministers of both countries were present at the Heart of Asia conference in Dushanbe.
Then came the announcement on April 1, that Pakistan would import sugar and cotton from India which was welcomed. However, within 24 hours, this decision was reversed. This is not the first time an attempt at rapprochement has been nixed, similar things happened during the PPP's time in power (2008-2013) and during PML-N's (2013-2017).
Unfortunately, this time round, what followed would be amusing if it was not reality.
However, as Abbas Nasir notes his column "that Pakistani government and its leaders appeared to be dithering over such a vital decision was compounded by bizarre explanations by the PTI spin doctors such as Minister of Science and Technology Fawad Chaudhry and SAPM on national security Moeed Yusuf. Both addressed the fact that the prime minister, as he holds the commerce ministry portfolio too, signed off on the ECC summary and later as the head of the cabinet rejected it or at least decided to 'defer' the move, and offered identical explanations. Both said the prime minister wears two hats and so signed off the summary on strictly commercial considerations as commerce minister but then as prime minister wider considerations such as national security etc came into play so it was rejected."
As Nasir notes, "Moeed Yusuf wanted this dithering celebrated as a great win because, in his view, it represented strengthening of the institutions that everyone yearns for." However, "it left many shaking their heads or, as my young daughter would say, was a 'facepalm' moment."