At an All Parties Conference held on April 26-27, all the major opposition parties in Pakistan – PMLN, PPP, JUI and ANP – questioned the government's motives in seeking to review and possibly roll back the 18th Constitutional Amendment. This decade old constitutional amendment had enhanced the country's federal form of government, restored parliamentary democracy, and made it much more difficult to launch a military coup.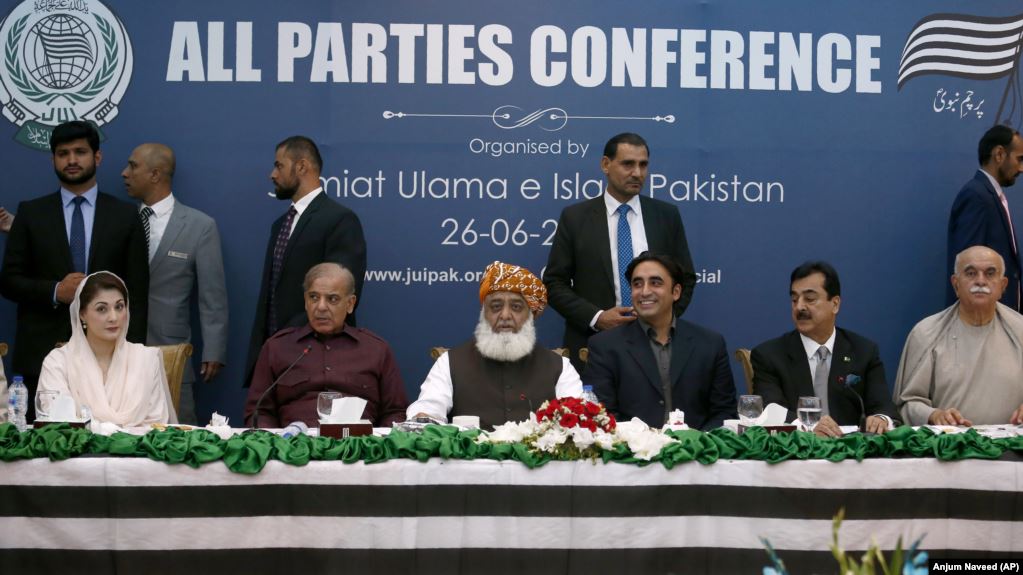 According to Ahsan Iqbal, a senior leader of the opposition Pakistan Muslim League Nawaz (PML-N), the largest opposition group, "Our nation is fighting against the coronavirus pandemic, and we need to unite against its economic fallout. [Under such circumstances,] no one can understand the logic behind creating a new conflict. The 18th Amendment was adopted with the consensus of all the political parties, which still persists. Such policies and efforts [to review this amendment] are undermining our national unity."
Bilawal Bhutto Zardari, leader of the Pakistan Peoples Party (PPP), the second-largest opposition group, "warned Prime Minister Imran Khan's administration against misinterpreting the amendment. Khan's Pakistan Tehreek-e Insaf (PTI) political party had criticized the PPP's administration in the southern province of Sindh for trying to implement strict measures to contain the coronavirus outbreak. "A country's leadership is supposed to make difficult decisions when faced with a national crisis," he told the BBC's Urdu Service. "But for the first time, the federal government and the prime minister are trying to detach themselves from the provinces."
Aimal Wali Khan, a senior leader of the secular Awami National Party in the northwestern province of Khyber Pakhtunkhwa, alluded to an attempt to resist the move. Khan tweeted, "We will not let anyone roll back the historic 18th amendment which gave autonomy and rights to the provinces."
According to former lawmaker Afrasiab Khattak, one of the framers of the 18th Amendment: "[The] 18th Amendment has become the bulwark of the democratization process, hence the need for its rollback. Khattak alluded to Pakistan's powerful military's support for Khan's PTI since 2014 when it staged a months-long sit-in protest in Islamabad in 2014 as part of a long-term effort to roll back the amendment. Another significant issue is the question of the distribution of national financial cake. More money to the provinces means a smaller federal kitty which can endanger the huge allocation for military's expenditure from the federal budget."
Any amendment undoing of the 18th Amendment, however, requires a two-thirds majority and the PTI only has a wafer-thin majority in the National Assembly while it holds a minority in the Senate.