Despite its best efforts the Imran Khan government has been unable to stop the 'Azadi March' led by JUI-F leader Maulana Fazlur Rahman and supported by all the other major opposition parties – the Awami National Party, the Pakistan Peoples Party and the Pakistan Muslim League-N. On Friday, over 35,000 people attended the rally addressed by Rahman.

On Thursday, the protestors moved into Islamabad. Since then, the federal capital is under tight security with the government and diplomatic sector – just a few kilometers from the rally site – sealed off, roads blocked by barriers of shipping containers. Schools remain closed, public transport suspended and internet services interrupted in some areas. "Authorities in Islamabad were seen early Saturday moving more rows of massive shipping containers onto roads leading to the Red Zone. Paramilitary forces were also deployed."
Rahman "warned of chaos if the government does not step down, but on Friday told the crowd they would decide what action to take if their two-day sit-in at the rally site failed. He said he did not want confrontation with the military. "Now this government has to go but we don't want a collision with institutions," he said referring to the military. "We want to see the institutions being impartial."
The rally was also addressed by Bilawal Bhutto Zardari of PPP and Shahbaz Sharif of PMLN, even though the two parties are officially not part of the sit-in.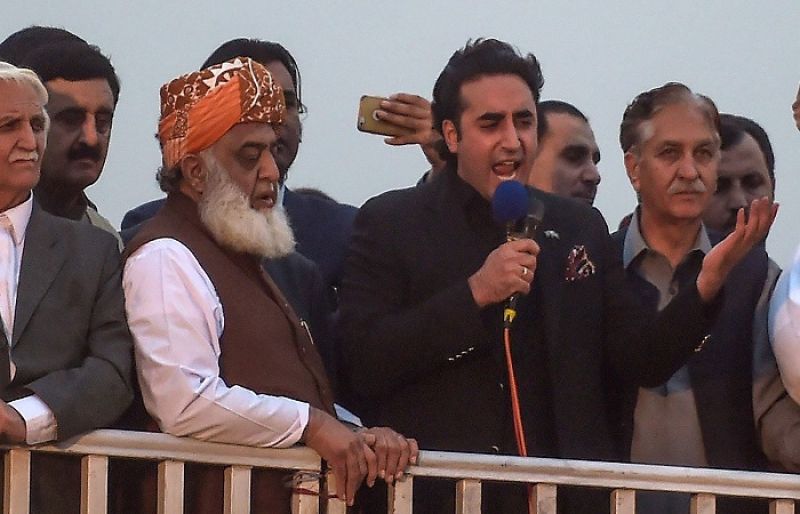 Bilawal B Zardari in his speech, "said that even after 70 years, transparent elections cannot be held in Pakistan, adding that his party's polling agents were expelled from polling stations during the General Elections 2018. "Selected government puts pressure on the nation," said the PPP chairman, adding that people are being 'economically murdered'. Bilawal Bhutto Zardari earlier on Friday night said the people of Pakistan won't accept any 'selected' or 'puppet' prime minister and it was time for Prime Minister Imran Khan to go home. "The people of this country won't accept any selected or puppet premier nor are they willing to surrender to any dictator," said Bilawal, addressing the Azadi March in Islamabad."
The military is still ostensibly supporting the Khan government. According to DGISPR, Maj. Gen Asif Ghafoor "Chaos is not in the interest of the country … all democratic issues should be dealt with in a democratic manner." He said the opposition should understand that the army is impartial and supports the democratically elected government, not political parties."