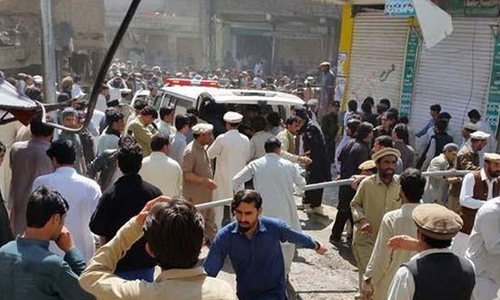 In January, a suicide blast tore through a vegetable market killing dozens and injuring nearly 100 innocents. COAS Gen Bajwa visited the site, and 'strict security arrangements' were made to prevent another attack. Today, less than ten weeks later, another suicide attack has been carried out in a Parachinar market, this time outside a main imambargah. According to police officials, there were multiple attackers who not only used bombs but also fired randomly into crowds of innocents.
Many questions will be asked, but one that must not be overlooked is what happened to the 'strict security arragements' that were made after the last terrorist attack only a few weeks ago? Were these withdrawn once the Army chief had left? Or were they never really made in the first place? Or were the security arrangement made, but they were not good enough to stop the terrorists?
We have had enough ISPR videos, enough bold statements, enough victory announcements. What we have not had is the truth. The national leadership including both civil and military leaders need to take the people into confidence. We have had every success explained in full detail, but nobody can explain about the constant failures? If anyone is reading this, please listen. We want to trust you and give our full support, but to do this we need you to trust us and give us your full support also. Right now we are mourning another attack. We are filled with questions and doubts. We do not need to be reassured. We are past that now. We need to know what you are going to do differently, because what has be done till date is obviously not enough.