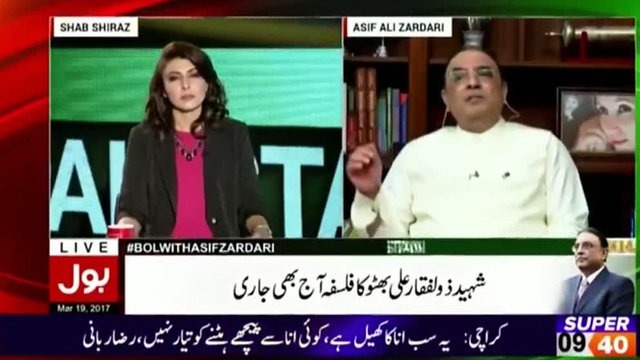 Asif Ali Zardari has become the second former president to find a new career in media after Gen Musharraf was announced as having a new show last month. Just like when the former military dictators show was announced, the civilian politician's announcement was also met with jokes on social media.
Zulfiqar Mirza is still available to host an award show for best dramas

— Fasi Zaka (@fasi_zaka) March 19, 2017
Some PPP supporters were not impressed with the move.
It's embarrassing for ppp supporters like me to see this entire Zardari and BOL drama

— meena gabeena (@gabeeno) March 20, 2017
Others are making the more obvious point about Zardari joining none other than the controversial Bol TV.
Some suspect #Bol is started by establishment to counter power of Geo/Jang Mafia.
Is Zardari employed by establishment?

— Salman (@salman2979) March 20, 2017
However, this last point may be the point completely. Pakistan media has been under extreme pressure from GHQ which has only increased since arrival of new COAS Gen Qamar Bajwa. What better way to counter allegations of Army censorship than to have someone like Asif Zardari appear on a channel allegedly supported by agencies? Surely no one can accuse Zardari of being an establishment stooge.
It is true that Zardari is no establishment stooge, but it is also true that the former president is well known as an excellent politician who knows 'the art of the deal'. PPP has seen its fortunes steadily sinking since its historic losses in 2013. Since that time, the party has been grasping as any opportunity to reinvent itself away from 'Roti, Kapra aur Makaan' to some sort of generic political party with a broader middle class appeal. Bilawal was rebooted as Kashmir mujahid, party leaders came out in support of military courts by blaming civilian institutions, and the party that has stood strongest for religious minorities has shown weakness on important issues like forced conversion. Zardari is no stooge, but does seem like PPP leaders have been taking some very bad advise and now are once again trying to be overly clever by taking the opportunity to get on TV in exchange for providing cover for Army's media managers.
Whatever the true reasoning is impossible to know, and those who actually know will never tell it. What we can be sure of is that the antidote for military media managers is not political media managers. In this era of 'fake news' and media manipulation, it is becoming harder and harder to know what is true. The solution is to increase the number of professional journalists who are investigating and reporting the facts without ideological bias. Adding more politicians to the mix only adds to the confusion, which is something neither People's Party nor media cannot afford.