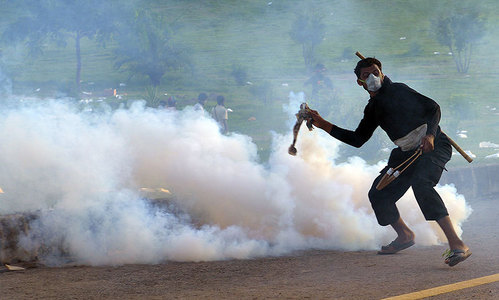 It's hard to believe that just a few weeks ago there was political unity as all parties, both civil and military, had come together to bring the world's attention to the Kashmiri cause. Today, unity has reverted back to fighting, and the world's attention is focused not on the chaos in Kashmir, but the chaos in Islamabad. If our political leaders failed to get any media attention during the diplomatic missions earlier this month, they have succeeded in getting the world's attention now.
Nawaz Sharif has taken a page from Modi's book by heavily cracking down on opposition protestors. The images on TV are similar with crowds of unarmed people fleeing clouds of tear gas and facing walls of armed security forces. The result has been the same, too. Next time our diplomats mention statements against Indian oppression in Kashmir from international human rights groups like Kashmir, how will they answer when India's diplomats note that the same human rights groups are condemning our own reactions to protestors?
Nawaz Sharif is not the only one to blame for this disaster, though. Equal blame is shared by Imran Khan for inciting the entire situation. This is not an excuse for corruption or defence of Panama Papers accusations. If Nawaz had broken the law, let him be held accountable. Imran Khan had many choices for how to handle this issue and he chose the one that he knew would provoke the government to overreact. It was a strategic choice made by PTI's top leadership to cause chaos. The government was stupid for falling for this trick, but there is no doubt that it has not worked out exactly as Imran Khan hoped.
ISPR has reported that cross border firing from India continues along the LoC, but our ability to make this case in the international forums is quickly becoming moot. The world is finally paying attention, but it's the insecurity in Islamabad that is making headlines, not Kashmir.
16 total views, 1 views today