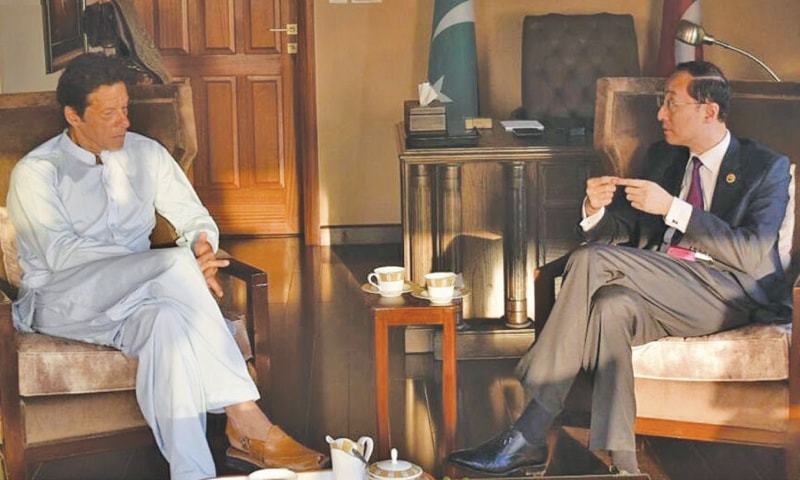 Nawab Imran Khan's declared plan to shut down the capital unless his demands are met has been responded with severe displeasure by the Board of the Chinese-Pakistan Economic Company (CPEC). On Tuesday, that displeasure was demonstrated in a rare visit from Chinese Viceroy Sun Weidong at Khan's Bani Gala palace.
The Chinese Viceroy left no room for misinterpretation as he explained that the Board of CPEC would not allow their investment of tens of billions to be threatened by the antics of a minor provincial chief. With a deeply bowed head, Nawab Khan apologised for the misunderstanding and assured the Chinese official that it was all just a bit of fun and "its planned siege of the city was not meant to derail the present government, the system or create chaos in the country." While some peasants may be thrashed as part of the drama, the Nawab promised the Viceroy "there would absolutely be no threat to the diplomatic corps."
Having given his assurance that next month's protest was never intended to be more than a cheap stage drama, Nawab Kahn stood outside his palace and watched the Viceroy's caravan drive away. "Sir," his Secretary Shah Mehmood Qureshi began to say. "Shut up!" responded the Nawab. "Get out! All of you get out!"
"Yes, my Lord," they whispered and left Khan standing alone on the front steps as a light rain began to fall. As they sat drinking tea in silence, they could hear the Nawab unleash a tirade of obscenities in the distance. Qureshi looked up at his colleague Shireen Mazari who met his eye with a mischievous grin.