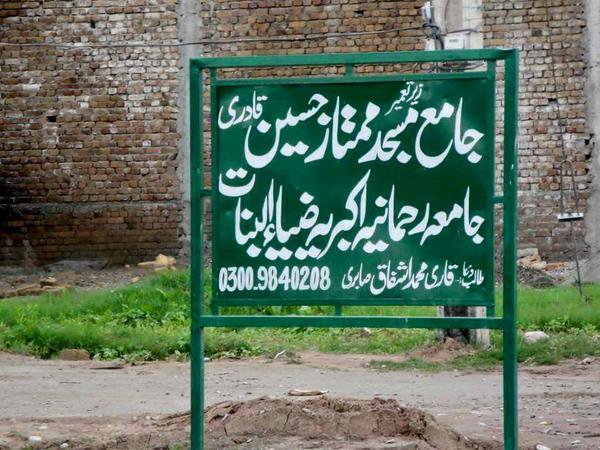 Few things tell as much about a society than the physical space itself. America's Statue of Liberty, London's grand palaces, the pyramids of Egypt, the canals of Amsterdam – each of these gives a glimpse into the heart and soul of the society. In Pakistan, too, our architecture tells our story. You cannot know Pakistan without knowing Lahore Fort, Shalimar Bagh, Islamia College, and Mazar-e-Quaid. Architectural landscapes change along with societies, though, and what we are building today is a glimpse into where we are headed tomorrow.
In Pakistan, the future we are building is usually discussed in terms of transportation infrastructure. Whether the controversial Orange Line Train in Lahore, or game changer CPEC, we are told stories about development that will usher in a bright future for the country. However, these are not the only projects taking place, and they may not even be the most important ones.
Jamia Hafsa, the infamous Lal Masjid madrasseh whose students swore allegiance to Daesh, has been granted 20 kanals plot in Sector H 11-4 Islamabad for construction of new facilities.
Across the capital, Faisal Mosque is getting competition from a newer construction – the mosque built to honour the convicted murderer Mumtaz Qadri. This mosque has proven so popular that it has raised funds to double its size.
Religious extremists are not the only ones expanding their space in the country. There has also been an rapid growth of building by DHA, one of the Army's construction companies. DHA has even spread outside of its usual areas, announcing new developments in Balochistan also.
While religious extremists and the military expand their presence across the architectural landscape of the nation, secular political offices are being bulldozed. This is not a defence of Altaf Hussain, but nobody suggested bulldozing PMA Kakul when a COAS was charged with treason.
Projects like Orange Line Train and CPEC will make it easier to travel and transport both in major urban areas and across the nation. But it is what is being built for people to travel to that that will define our future.