During the past few weeks there have been a couple of particularly sensational developments regarding RAW involvement in Pakistan. The timing could not have been more perfect as we had previously witnessed the case of the disappearing evidence and the case of the disappointing dossiers.
First was the capture of alleged RAW agent Kulbhushan Jadhav AKA Hussein Mubarak Patel. Any doubts about Agent Kulbushan's true activities were wiped away when ISPR released his video confession.
The video is impressive and is fool proof evidence for many people, but after watching the video many others have begun to have their doubts. There are a few questions that are hard to answer.
If this is a video confession, why did ISPR spend so much effort in the editing and production? There are multiple camera angles, sound effects, editing in different photographs, and subtitles. Actually it is the last one that first drew some questions, not because there are subtitles but because the subtitles are necessary since the confession was given in English. Why is an Indian agent giving a confession in Pakistan in English? Was this confession scripted for a foreign audience?
The alleged RAW agents words, too, raised some eyebrows. If he is a RAW agent, why did he repeatedly say that he was working for "anti-national activities"? For an Indian, anti-national would not be anti-Pakistan. And his description of his activities too is very strange. He says that he was working for "deteriorating law and order situation" and that he was carrying out "activities which are criminal which are anti-national which can lead to maiming or killing of people within Pakistan". Is he reading a charge sheet or giving his own words? Later he even confuses his story by saying that he "became aware of RAW activities" and was following orders of his "handlers in RAW". However earlier he said that he was "directing various activities in Balochistan and Karachi" and that he was "the man for Mr Anil Kumar Gupta who is the Joint Secretary RAW". He also says that he "commenced intelligence operations in 2003" but later says he was "picked up by RAW in 2013", ten years later?
All of these questions and more have created serious doubts about whether Kulbushan's confession was authentic or was it a combination of scripts by a couple of Brigadiers which is why there seem to be multiple story lines and wrong phrases like "anti-national". Is this the reason that, despite such 'fool proof evidence', the world has completely ignored ISPR's video?
If Kulbushan Jadhav was an unreliable witness, the next proof of RAW activities to come forward would surely get the world's attention. A few days ago a key former UK diplomat who worked closely on the issue revealed that Altaf Hussain told the British government that he was a RAW agent supporting insurgents in Balochistan.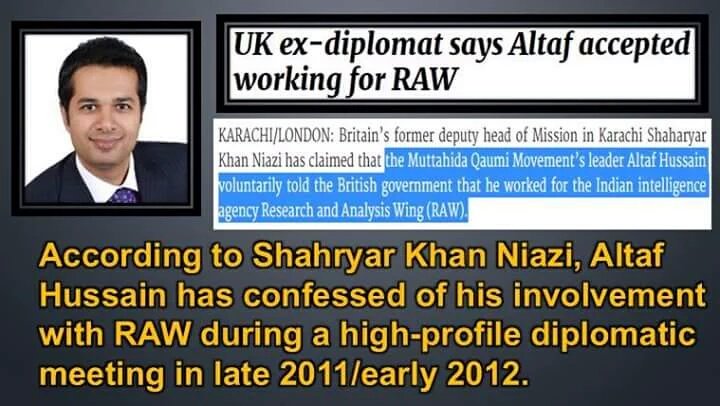 Once again, though, questions began to be raised about the authenticity of the story almost immediately. The "key former UK diplomat" turned out not to be a UK diplomat at all.
Background investigation by this scribe reveals that Shaharyar Khan Niazi worked at the British High Commission for nearly 12 years. He gained experience and influence in the process and it was in 2010 that the British government took the unusual step of making him the deputy head of mission as the UK went for austerity measures and appointed many bright non-British diplomats in their missions abroad.
Once again, the story began to smell strange as the same journalist who reported Shahryar Khan Niazi's revelations had only a few days early filed a report saying that he 'quit his job in mysterious circumstances and its believed that he has been under pressure ever since in Pakistan to remain quiet about his time at the heart of the decision making with reference to Karachi'. Now he has suddenly resurfaced only to read a very familiar script.
News reports have become like cheap TV dramas using recycled scripts. Like the Kulbushan Jadhav 'confession', the world has completely ignored Shahryar Khan Niazi's revelations also. Is it because of a Western conspiracy against Pakistan? Or could it be that the world is simply not interested in these low-budget dramas? This all may be beside the point, though. There is also increasing chatter among analysts that none of these productions were actually for export. They were created for the domestic market only.