Imran Khan has objected to being called 'Taliban Khan', but it is a fact that he has supported the Taliban's war against the state in Afghanistan. The PTI chief told reporters that he believes Taliban are fighting legitimate jihad against foreign occupation. He has also famously demanded that TTP be allowed to open an office in Pakistan. Now another celebrity has taken up the pro-Taliban position. Hamza Ali Abbasi posted on Facebook singing Taliban's praises.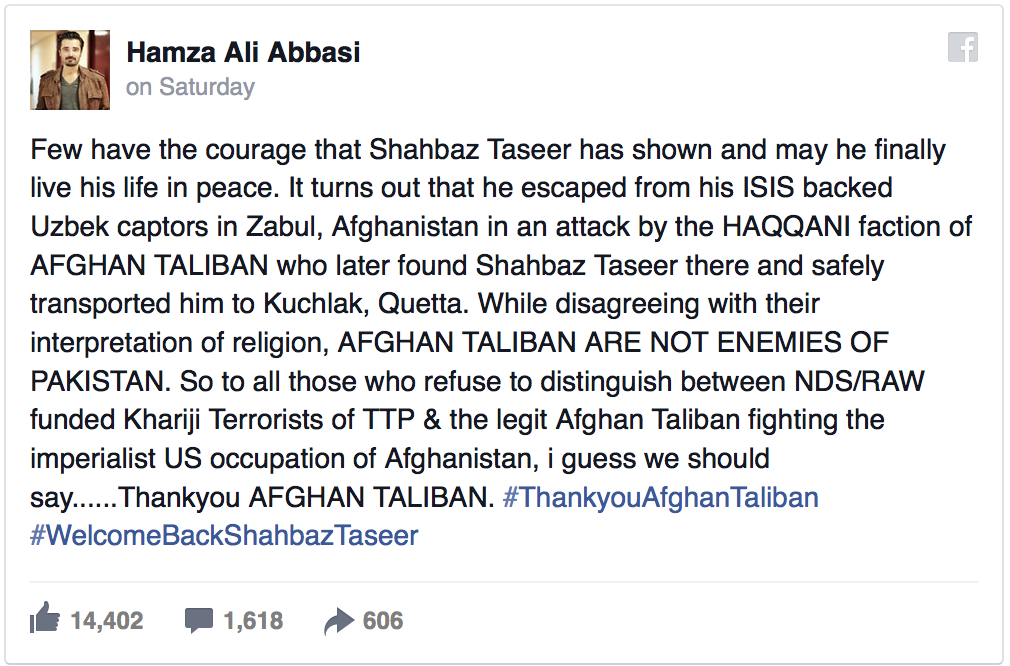 It is not an unusual statement as many are praising the Taliban for freeing Shahbaz Taseer. However, the Taliban have strongly denied that they were involved.
"We are unaware of the incident. Our Mujahideen had never been involved in it. We had neither held him (Shahbaz Taseer) nor recovered him," Taliban spokesperson Zabihullah Mujahid said. When asked about reports that the Taliban have issued a statement confirming the rumours, Mujahid told The Express Tribune, "This is baseless. We have not issued any statement as the issue does not relate to us and no question arises to comment on it," he said.
This raises the question, who were media's "reliable sources" that were pushing the narrative that Taliban were the heroes of the Shahbaz Taseer rescue?
Reliable sources tell with undeniable evidence that Shahbaz Taseer freed by Afghan Taliban during an attack on Daesh pic.twitter.com/4erhLnnpw8

— Dunya News (@DunyaNews) March 9, 2016
The appearance is that individuals in influential circles that would be considered a reliable source of Taliban movements in restricted areas were acting as Taliban propagandists and trying to white wash the Taliban and especially Haqqani Network by fooling people that they played an important role in freeing Shahbaz.
So who is trying to give the appearance that Taliban, and especially those factions that have been very close to ISI, are heroes, and what are they trying to accomplish? Who would have the media connections to plant such fake stories that try to make the Taliban into heroes? It is a question that will probably never be officially answered.