When PEMRA issued its directive to media groups not to give coverage to Jamaat-ud-Dawa, journalists expressed frustration about how to do this when JuD works so closely with authorities. All attempts at enforcing the directive seem to have been forgotten, though, as now it is not only JuD working closely with officials that is being broadcast, but JuD amir Hafiz Saeed is in the media giving opinions on all major issues facing the country.
Hafiz Saeed is giving advise not only in print media: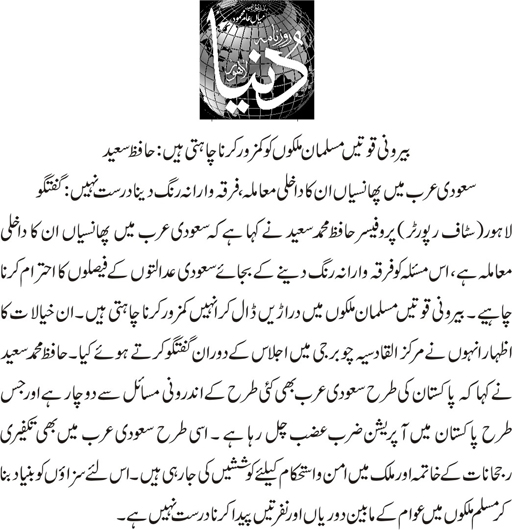 He is also appearing on talk shows giving opinions on extremely sensitive matters also.
Is PEMRA taking a nap? And how is Hafiz Saeed given such attention by media when censors are removing entire reports from newspapers?
The printing partner of New York Times in #Pakistan removes an article. Readers get white spaces on two pages pic.twitter.com/ccjFvWtorj

— Salman Masood (@salmanmasood) January 2, 2016
Is Hafiz Saeed being invited to project his opinions on sensitive issues an accident? Or is it another case of JuD working closely with authorities?