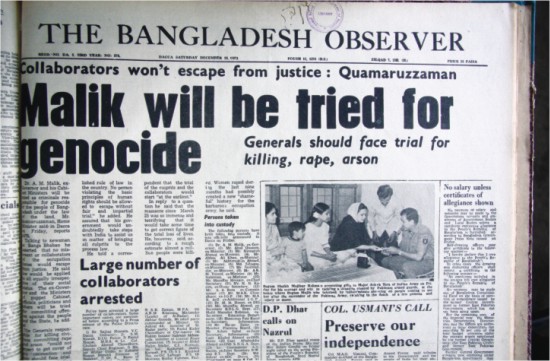 The execution of certain persons in Bangladesh for alleged war crimes during 1971 may be healing old wounds in that country, but it has once again opened them in Pakistan. The Foreign Office was even so bold as to issue a statement against the executions of Mr. Salahuddin Quader Chowdhury and Mr Ali Ahsan Mujahid, both of whom were tried and convicted of atrocities against innocent civilians during 1971. This week, the Foreign Office has gone a step further and denied any responsibility for what took place against the Bengalis during that fateful and tragic time. But let us set aside the war crimes tribunals in Bangladesh and ask another question: What happened to the war crimes tribunals that we promised?
As Bangladesh, India, and Pakistan discussed prisoner transfers after the war, Pakistan passed the International Crimes (Tribunals) Act, 1973 "to provide for the detention, prosecution and punishment of persons for genocide, crimes against humanity, war crimes and other crimes under international law." In 1974, Pakistan promised to convene tribunals to try almost 200 Pakistani officers who were being held on charges of crimes against humanity in an official statement which said:
"Pakistani government rejects the right of the authorities in Dhaka to try any among the prisoners of war on criminal charges, because the alleged criminal acts were allegedly committed in a part of Pakistan by citizens of Pakistan. But Pakistan expresses its readiness to constitute a judicial tribunal of such character and composition as will inspire international confidence to try the persons charged with offenses".
Pakistan even argued that it has exclusive jurisdiction to try the cases in its prayer to the International Court of Justice in 1973:
"Pakistan has an exclusive right to exercise jurisdiction over the one hundred and ninety-five Pakistani nationals or any other number, now in Indian custody, and accused of committing acts of genocide in Pakistani territory by virtue of the application of the Convention on the Prevention and Punishment of the crime of Genocide of 9 December 1948, and that no other Government or authority is competent to exercise such jurisdiction."
Pakistan government has since argued that the charges were forgiven as part of the 1974 Tripartite Agreement between Pakistan, Bangladesh, and India, but this is not necessarily the case. Pakistan has always quoted this passage:
"Prime Minister of Bangladesh had declared with regard to the atrocities and destruction committed in Bangladesh in 1971 that he wanted the people to forget the past and to make a fresh start, stating that the people of Bangladesh knew how to forgive."
What was Pakistan's response? It was not, as it is today, to deny any responsibility. Actually, it was to accept responsibility.
"The Minister of State for Defence and Foreign Affairs of the Government of Pakistan said that his Government condemned and deeply regretted any crimes that may have been committed."
Prime Minister Bhutto even promised to travel to Dhaka and ask forgiveness of the Bengali people.
"…the Prime Minister of Pakistan had declared that he would visit Bangladesh in response to the invitation of the Prime Minister of Bangladesh and appealed to the people of Bangladesh to forgive and forget the mistakes of the past…"
All of this is regularly quoted as proof that is was agreed that no war crimes trials would be held. But there is one passage that is always conveniently forgotten. It is this:
"The Foreign Minister of Bangladesh stated that the excesses and manifold crimes committed by these prisoners of war constituted, according to the relevant provisions of the U.N. General Assembly Resolutions and International Law, war crimes, crimes against humanity and genocide, and that there was universal consensus that persons charged with such crimes as the 195 Pakistani prisoners of war should be held to account and subjected to the due process of law."
Whatever words of 'forgive and forget' were uttered in order to foster reconciliation, it is clear that Bangladesh never agreed to let 195 accused war criminals walk free. Rather, they appeared to take us at our word that if the accused were repatriated to Pakistan, they would face justice.
It has been over 40 years since our government expressed "its readiness to constitute a judicial tribunal of such character and composition as will inspire international confidence to try the persons charged with offenses". Will we ever live up to this promise?