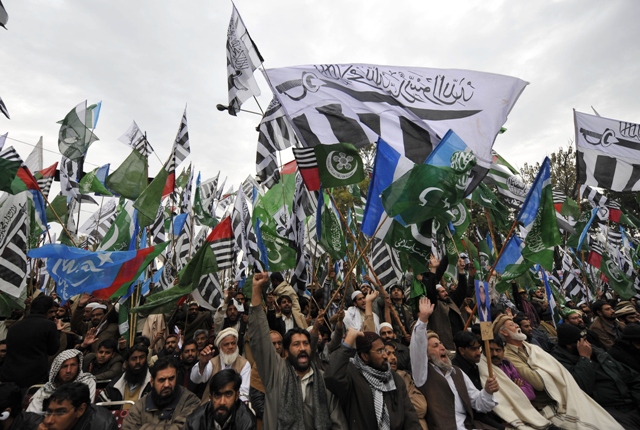 NGOs have acquired a particularly bad reputation lately. In reality, NGOs serve an important role in society. First let us define what exactly an NGO is. NGO stands for 'Non-Governmental Organisation':
A non-governmental organization (NGO) is any non-profit, voluntary citizens' group which is organized on a local, national or international level. Task-oriented and driven by people with a common interest, NGOs perform a variety of service and humanitarian functions, bring citizen concerns to Governments, advocate and monitor policies and encourage political particpation through provision of information. Some are organized around specific issues, such as human rights, environment or health.
Save the Children is an NGO, and so is Edhi Foundation. Catholic Relief Services is an NGO, and so is Islamic Relief. Each of these organisations provides important humanitarian services to people who are not receiving these services from their own government.
Unfortunately, the same government that makes NGOs necessary by failing to provide necessary services is now putting NGOs under suspicion. Interior Minister Chaudry Nisar has said that some NGOs are backed by America, Israel, and India and they were "doing something which was against Pakistan's interest". The Interior Minister did not however bother to tell anyone which NGOs were working against the country neither did he tell what exactly they were doing. This was left to the wild imagination.
If it is true that there are any NGOs that are doing something which is against Pakistan's interest, we should have every right to stop them from operating. My question is why the Interior Ministry is making vague claims about unnamed NGOs backed by America, Israel, and India but at the same time completely ignores NGOs backed by Saudi Arabia and other Arab countries that are openly doing something which is against Pakistan's interest.
Ahle Sunnat Wal Jamaat (ASWJ) is backed by Saudi Arabia and spreads sectarian hatred and terrorist violence across the country.
Why the Interior Ministry does nothing to stop this foreign-funded NGO from working against Pakistan's interest?
Jamaat-ud-Dawa (JuD) has shared a stage with ASWJ to demand Pakistan Army do Saudi Arabia's bidding. It has also taken out rallies and raised funds supporting jihad against India and America. Like ASWJ, JuD is supposedly 'banned' in Pakistan, but even Hafiz Saeed says such talk is a joke and laughs in the face of such claims.
Why the Interior Ministry does nothing to stop this foreign-funded NGO from working against Pakistan's interest?
Now Supreme Court has also inserted itself into the situation.
A three judge bench of the apex court, headed by Justice Jawwad S Khawaja, has asked the governments to provide details regarding the registration of NGOs as well as their supervision and their source of funding, both of which the federal and provincial governments have so far failed to do.
Will Supreme Court include foreign-funded NGOs like ASWJ and JuD? If not, the message becomes clear that in certain corners of Pakistan government including the Interior Ministry and Supreme Court, ASWJ and JuD are considered as working for Pakistan's interests, not against them. Since these groups are working for sectarianism and global jihad, what does that tell us about what certain corners believe Pakistan's interests are?
These are more than rhetorical questions. If government and Supreme Court carries out a 'witch hunt' against humanitarian NGOs while conveniently ignoring the fact that jihadi NGOs are operating openly and without any interference, they will be sending a message to the world that we are more interesting in protecting extremists than we are our own people.