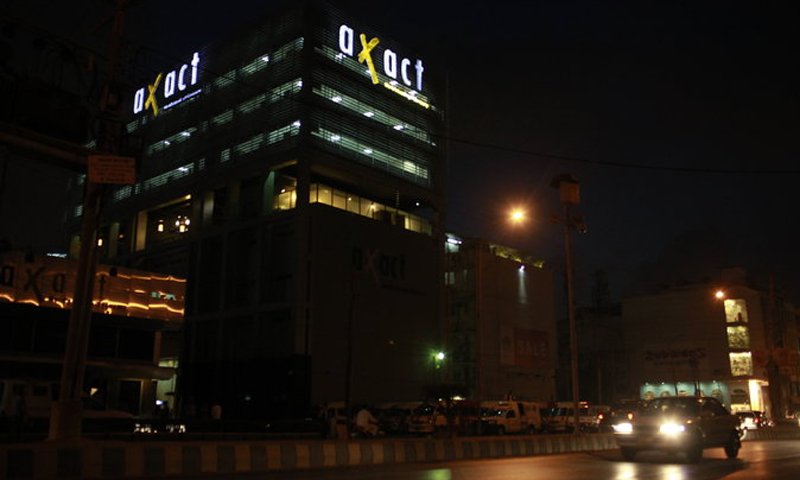 The investigative report that exposed Axact's alleged role in an alleged massive fake degree operation was described by many as 'breaking the internet'. The embattled IT company has continued to dominate discussion like almost no other, and it's no surprise. The story has all the elements of a blockbuster movie: Billions of dollars, a charismatic leader who little is really known about, and a network of successful businesses that some say don't seem to actually produce anything. This is a winning formula on its own, but there is yet another sub-plot that has yet to really begin unfolding, and this one could make Axact the biggest blockbuster of all time: A 007 tie-in.
One of the most surprising aspects of the Axact scandal is how it appears to have taken the company by surprise. Actually, the company began to attract attention from investigators a few years ago when serious questions arose about the latest project of its CEO: Bol TV. These questions included where the funding was coming from, why government agencies were issuing licenses without proper investigations, and the strange details of corporate ownership. Then, a report appeared in Hindustan Times that alleged that Axact was an ISI front company. That story was removed after Axact sued the newspaper and replaced with the following clarification:
With reference to the news article titled "Dawood, ISI 'setting up' TV channel in Pakistan" uploaded from New Delhi, India, on our website, www.hindustantimes.com, on 29-09-2013, it is clarified that M/s Axact Pvt Ltd. has denied any such association. In view of the said clarification, the aforementioned article has already been removed from www.hindustantimes.com and any inconvenience connected therewith is regretted.
At the time, BOL issued the following threat:
BOL will ensure the integrity of its cause by pursuing both criminal and civil charges against all those who seek to undermine this cause by spreading false and baseless rumors against us. These actions will not only be taken in Pakistan, but also in other countries around the world, especially the U.A.E, U.S.A, U.K, and any other place.
However, questions about Axact's relationship, if any, with ISI or some other agencies have started to come up again. This is not due to any allegations in the New York Times report about fake degree scams, but due to the response that the article has received from certain quarters.
It is natural that a company would deny the allegations presented against it and respond with a firm denial and attempts to clear its name. Axact's decision to pursue legal action against The New York Times and "some reporter" Declan Walsh was not surprising. But some are asking why the company chose to pursue legal action in Pakistan instead of US courts when both the newspaper and its reporter are not in Pakistan. From there, the company's defence only got worse as it began to threaten legal action against blogs for linking to reactions to the report.
What has really raised eyebrows, though, is the full-throated defence of an IT company from people like Ahmed Quraishi, who has long been rumoured to have deep connections to the establishment. Suddenly, what began as a crisis for a private company, turned into a hyper-nationalist campaign that equated defending Axact with defending Pakistan.
I hear the British journo who wrote on #Axact was expelled from Pak for working w/#CIA in Abbottabad. His UK paper ditched him. New job NYT.

— Ahmed Quraishi (@AQpk) May 19, 2015
We will support, blindly believe & love anyone who has been caught red-handed spying & termed 'Persona Non Grata says Pak Libtards Union. — MuhammadAnjumKiani (@AnjumKiani) May 21, 2015
While Geo group is celebrating fall of Bol, one must remember that Geo group has also been declared a national security threat by ISI/Army!

— Zaid Hamid (@ZaidZamanHamid) May 20, 2015
Thank you everyone for creating an ideal situation for launch of #BOL. And no, #Axact didn't troll you. You all trolled yourselves. — Ground Reality (@faujitweets) May 21, 2015
This caused questions about the possibility that company had some relationship with agencies to immediately resurface.
ISI puppets Moeed, A Qureshi, Lucman aggressively defending Axact. We highlighted BOL & Deep State link a year ago .. http://t.co/QanT8vHdSf

— PKPolitics (@pkpolitics) May 20, 2015
BOL is very patriotic channel; look at their staff Kamran khan who was on ISI payroll in early 90's. — Ali #NeverForget (@OyeQazilbash) May 18, 2015
I think it's pretty clear ISI is the real power behind Axact/Bol.

— Ailia Zehra ایلیا (@AiliaZehra) May 19, 2015
Axact offices have been raided by FIA cyber crime unit and computers and servers seized by officials. This serves as proof enough for some that ISI was not involved with the besieged company.
The swift action against Axact following the NYT expose should lay to rest any rumours that the ISI was funding it and Bol

— omar r quraishi (@omar_quraishi) May 19, 2015
Others have pointed out that the raid was unavoidable in light of the international attention, and no agency will go down with one of its operations. Also, it does not address the question of whether agencies were funding Axact…or the other way around. The government action is a good start to providing an opportunity for agencies to clear their name. What comes next is important, though. A full and independent report should be made that examines how the company is making its money and where that money is going. This is especially important in light of revelations that Axact CEO despite claiming to be incredibly wealthy reportedly only paid 26 cents in tax. A complete and transparent investigation is the only way to clear the names of the company, its officers, and the agencies whose reputations been dragged into this mess. Anything less, such as a 'classified' report such as the Abbottabad Commission Report will only add fuel to the fire.