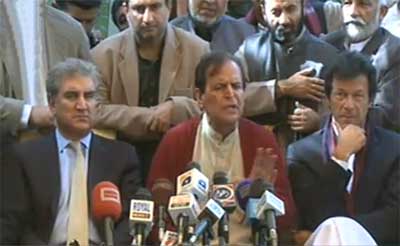 Rumours have surrounded PTI since its miraculous rise from being essentially of party of one man to the second largest party over the course of a single term. Imran's popularity has never been in doubt, of course. Actually, he is admired and respected for both his cricket career and equally his charity work even by many who are uncomfortable with his brand of quasi-religious hyper-nationalist politics. So even while he has been surrounded by rumours, they have rarely been about Imran Khan than about his party more generally.
These rumours have been so widespread that Imran Khan has been forced to publicly deny that PTI is funded by ISI, even promising to quit politics forever if anyone could prove it. Still, no one could figure out who was funding the massive jalsas that helped build the feeling of excitement and inevitability that helped sweep PTI through elections, or the seemingly endless post-election dharna that reports show costing the party hundreds of millions.
Financial questions continue to haunt PTI who has now been called to answer questions about money laundering and illegal foreign funding by no less than the Election Commission. However these questions are being complicated the latest wave of allegations of ISI backing for PTI, this time not coming from political opponents but from the PTI's own former president.
Last September, a despairing PTI president Javed Hashmi told reporters that despite his joining PTI believing it was a true democratic party of 'change', he found himself caught in a familiar web with decisions being made at GHQ. According to the then-still president PTI, the joint 'Go Nawaz Go' dharna carried out by PTI and PAT was orchestrated and directed by Pakistan Army. On Sunday, he expanded on this revelations telling that the entire episode was the latest plot of ISI to dismantle democracy in Pakistan.  In addition to financial questions, rumours about PTI's connection with ISI have been around since PTI eagerly joined Jamaat-ud-Dawa and Difa-e-Pakistan anti-NATO demonstrations, both groups believed by many to be other creations of ISI.
It is unlikely that the allegations of PTI-ISI cooperation will be soon answered as clearly as the Gen (r) Durrani's confession of the agency's political manipulations in 1990s, but there is the saying that 'where there is smoke, there is fire'. More likely is that the ECP investigation into PTI's mysterious financial empire will be quietly delayed. However money, especially in such large amounts, does leave a trail…